Okay, this is my last strawberry recipe, I promise!!!  I just couldn't resist this one.  When I saw this pie I knew I had to give it a try.  This pie encompasses everything I am loving right now – strawberries, coconut, bananas and chocolate!  Not to mention, it's considered a raw dessert which I am also all about in the spring/summer months.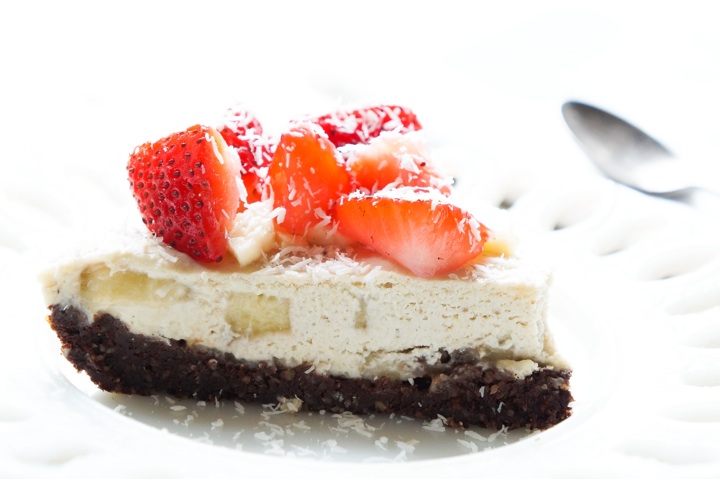 I found this recipe in a great new cookbook I just finished reading, Eat Raw Not Cooked, by Stacy Stowers.  Her recipes are SO easy and everything I've tried has been spot on!  I highly recommend this book, especially if you're wanting to add a few more fresh whole foods treats into your diet.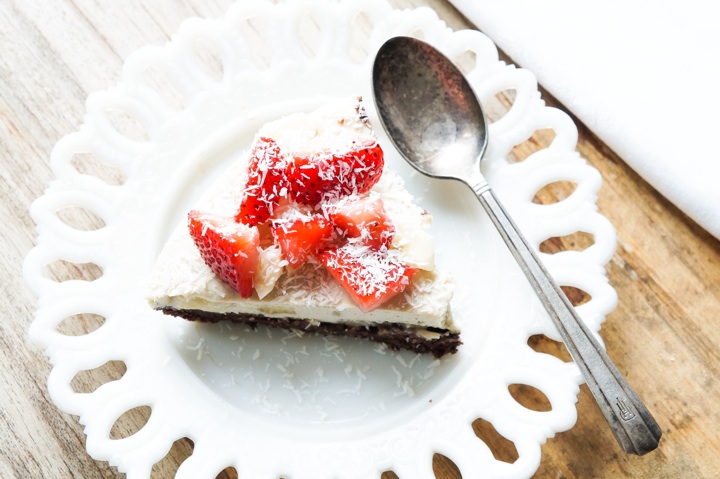 I am not an exclusive raw foodie by any means (far from it) but I have to admit I am loving the raw recipes that I have been experimenting with these last few weeks.  Something about these warmer days, I am just not into standing over a hot oven.  My body also seems to be craving freshness right now.  When my body speaks I've learned to listen!  I didn't pay attention to my body for years and wound up not feeling so great.  Now, I listen and feed my body what it needs.  What does a body need?  Fresh, whole foods and nothing processed – it's that simple.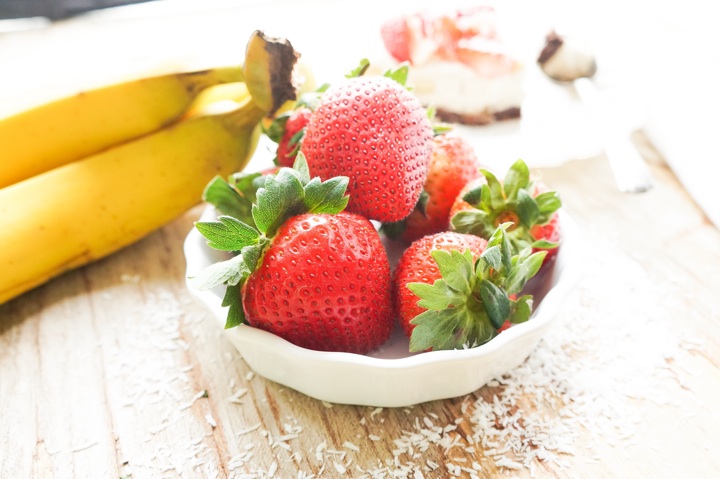 Why are raw foods so good for you?  Well, for starters you're when you eat raw you are loading your body with tons of vitamins and phytonutrients.  We all know why we need vitamins but how about phytonutrients?  Why are phytonutrients important?  Phytonutrients are very important when you are trying to prevent disease and heal your body.  The healing part is what I am SO interested in and have been for the last few years.  It is also believed that when cooking the heat can destroy the nutrients and natural enzymes.  However, with that being said it has also been said that cooking certain foods the cooking process actually enhances these same things.  So, bottom line…listen to your body.  Right now, mine is saying fresh is best.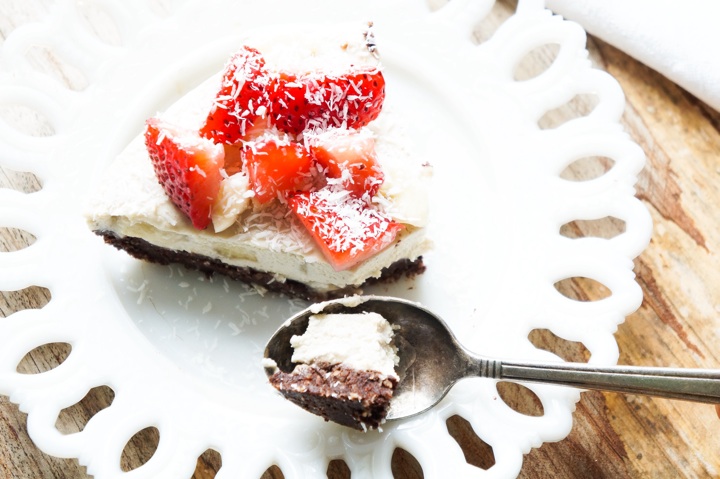 In the meantime, it really doesn't matter if this pie is raw or cooked – IT IS YUMMY!  I served it over Memorial Day and it was a hit with everyone – especially my 7-year old niece.  I actually topped mine with a little chocolate sauce.  Click on this link for the chocolate sauce recipe.  In my humble opinion, the chocolate sauce sent this pie over the top!  Give it a try – I hope you enjoy it as much as we did!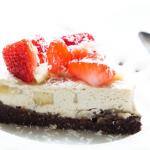 Print Recipe
Chunky Monkey Pie
Banana split goodness with a brownie crust! This pie is loaded with bananas, coconut, fresh strawberries and an ooey-gooey chocolate brownie crust!
Ingredients
Crust Ingredients
1

cup

packed pitted Medjool dates

1

cup

unsweetened cocoa

1

cup

raw almonds

½

cup

raw cashews

½

cup

chopped walnuts

dash of sea salt

1

tablespoon

vanilla extract

7

tablespoons

water
Filling Ingredients
2

bananas

1 cut into chunks and 1 sliced

1

cup

canned organic coconut milk

solid part only

1

cup

raw cashews

soak for at least an hour

2

dates

1

tablespoon

pure vanilla

1

tablespoon

lemon juice

½

cup

unrefined coconut oil

melted

dash of sea salt
Topping Options
1

cup

strawberry chunks

1

banana cut into chunks

¼

cup

shredded coconut
Instructions
Crust Instructions
In a food processor, combine the dates, unsweetened cocoa, almonds, cashews, salt, vanilla, water, and walnuts and process until you get a thick, moist brownie that sticks together.

Press mixture into a pie dish and place in freezer while preparing filling ingredients.
Filling Instructions
In a food processor, combine the coconut milk, cashews, dates, vanilla, lemon juice and salt and process. Add the coconut oil and process again. Stir in the banana chunks (don't process).

Layer the pie crust with the sliced banana and pour the filling over the banana topped pie crust. Chill for 2-3 hours.

Before serving, decorate with strawberries, bananas and coconut. Enjoy!