As promised, Wednesdays are now dedicated to Hassle-Free Hump Day recipes!  By mid-week, who really wants to cook?  So, on Wednesdays I plan on providing you with super-quick and easy recipes.  These recipes may be anything from breakfast to dessert.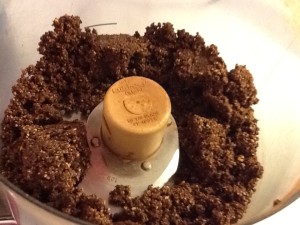 Today's specialty…Easy Chocolate pie!  I can't believe I am just now posting this recipe.  This is one of my all-time favorites.  It's not unusual for me to get on a roll and make this pie on a weekly basis.  As I've mentioned before, I love peanut butter and I love chocolate.  While this pie doesn't call for peanut butter, it does have peanuts in the crust – even better!  Now that I think about it…it's not a bad idea to add a little peanut butter to the pie filling.  I may have to try that next week – he he!
Not only is this pie super delish, it also has plenty of nutrients to boot.  Let's talk about all these nutrients.  Then, you can go enjoy your pie guilt-free!
The crust consists of peanuts, cocoa and dates.  According to the National Peanut Board (and they should know), peanuts have been shown to promote heart health, they are a good source of vitamin E, niacin, folate, protein and manganese.  The pie filling consists of bananas and cocoa.  Did you know bananas have been linked to improving your mood?  Maybe that's why I am so happy after eating this pie!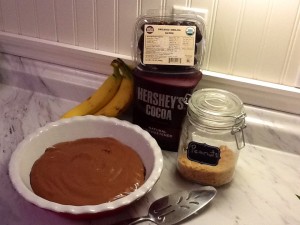 As I mentioned, the crust consists of peanuts, unsweetened cocoa and dates.  You simply put all these ingredients into the food processor and pulse until your crust looks like the photo.  You want the crust to stick together.  If it seems a little crumbly add a touch of water.  This usually does the trick or you may want to add another date or two.
For the filling, all you need is four frozen bananas and unsweetened cocoa. That is it, I told you this is easy!  I will give you a little advice…set your frozen bananas out and let them thaw a bit.  Your food processor will hate you if you don't.  If you don't have time to set out your bananas, you can add a little almond milk to soften them.  I hope you enjoy the easiest chocolate pie ever!!!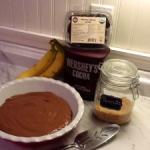 Print Recipe
Easy Chocolate Pie!
Ingredients
Crust Ingredients:
1

cup

peanuts

2

Tbsp

unsweetened cocoa

6

small dates

3-4 large dates

dash of salt
Pie Filling Ingredients:
4

frozen bananas

2

Tbsp

unsweetened cocoa
Instructions
Crust Instructions:
In a food processor, blend all the ingredients until thoroughly mixed. The mixture should stick together. Press into a pie dish and freeze while making the filling.
Pie Filling Instructions:
Blend the ingredients in a food processor until the bananas have a "custardy" texture. Put the filling on top of the pie crust and freeze for about 1 hr.