Happy Friday!  Since down here in the south we are in the middle of peach season, I thought it only appropriate that I provide ya'll with a peach dessert recipe!  For me that means having to actually make a peach dessert.  Since we all know how much I hate desserts (wink, wink), it wasn't too much of a burden.  I absolutely love peach season.  Prior to converting to a plant-based diet, I thought I liked peaches. However, I didn't realize how deliciously sweet they were until I started eating a clean diet and getting the processed food gunk off of my taste buds.  Now, I have a whole new appreciation for these little gems.  In addition, according to Medical News Today, one medium peach contains vitamins E and K, niacin, folate, iron, choline, potassium, magnesium, phosphorus, manganese, zinc and copper.  What's not to like about that.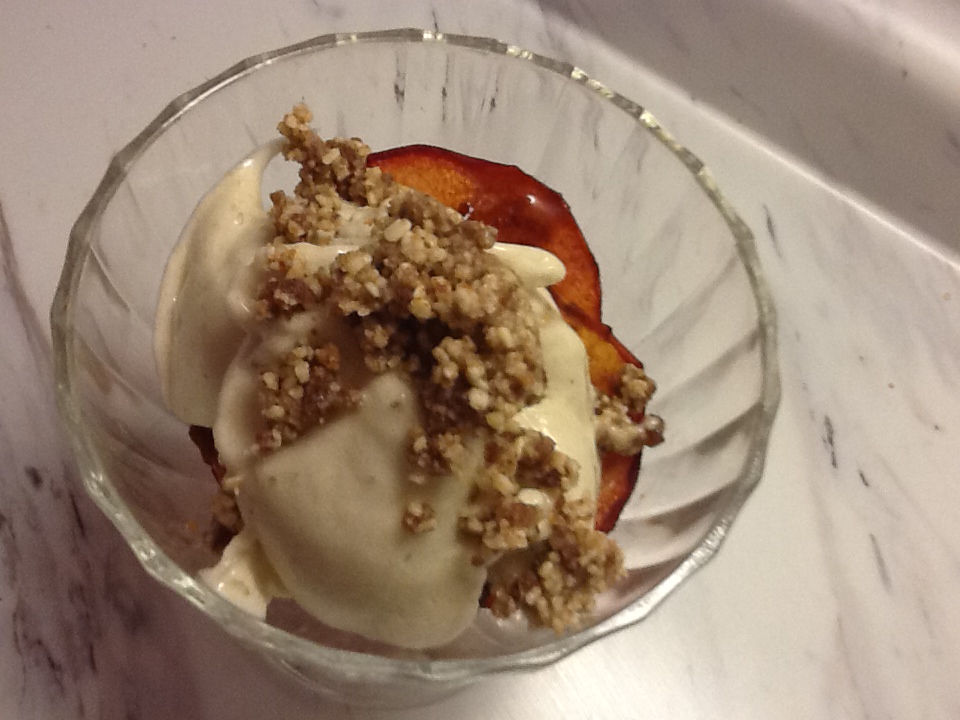 Onto more important things…the recipe!   I actually found a recipe for a non-vegan grilled peach.  You know the kind with butter, brown sugar, etc…  My thinking was, why add butter and sugar to an already delicious fruit?  So, I tried eliminating the butter and brown sugar and instead went with the peach, a splash of lemon juice and cinnamon.  I am particular fond of cinnamon because it has anti-inflammatory properties.  My husband said it best, "This is gooooood!"  That's enough confirmation for me.
I loosely covered the peaches in aluminum foil and baked at 425 degrees for 30 minutes.  Now, I know the recipe says grilled and you can totally grill these and I highly recommend it.  Why didn't I do that?  Wouldn't you know, we were out of propane, so no grilling for us. No worries, they were still delicious.  This is what they looked like when they were finished baking…
Of course, I couldn't stop there.  I had to add some delicious banana soft serve ice cream and pecan-almond crunch topping (recipes listed below).  All of that and no processed sugars, no dairy and no guilt!  It doesn't get any better than this!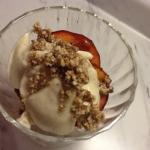 Print Recipe
Grilled Peaches
Ingredients
3-4

sliced peaches

I used pretty large slices.

1

tbsp

lemon juice

Cinnamon to taste

I used about 2 tbsp

Ingredients for Banana Soft Serve:

2

frozen bananas

Splash of almond milk

Ingredients for Pecan-Almond Crunch Topping:

1/2

cup

pecans

1/2

cup

almonds

1/4

tsp

almond extract

4-5

small dates
Instructions
Grilled Peaches
Baking: Line an 8 inch Pyrex or pan with parchment paper. (Parchment paper is a life-saver when it comes to clean up.) Grilling: Just use aluminum foil to wrap your peaches.

Slice peaches and place in a large bowl.

Sprinkle peaches with lemon juice and cinnamon.

Stir until peaches are coated.

Baking: Place peaches in dish and cover loosely with aluminum foil. Grilling: Securely wrap peaches in aluminum foil.

Bake at 425 degress for 30 minutes OR grill on medium for 30 minutes.
Banana Soft Serve
Slice frozen bananas into 2-3 pieces.

Place in food processor.

Add a splash of almond milk.

Process until smooth. May take a while if bananas are very frozen. Mine took a few minutes.
Pecan-Almond Crunch Topping
Place pecans, almonds, dates and almond extract into food processor.

Pulse until well mixed but make sure you still have texture.

Now you can start building your grilled peach sundae!!!