So, I ran across this awesome looking Socca Pizza in one of my recent summer reads, Très Green, Très Clean, Très Chic by Rebecca Leffler. However, I wasn't exactly sure, but what in the world is Socca? After a little research, I quickly found out that Socca is a gluten-free, vegan, chickpea flatbread. Oh my, a pizza made with a chickpea crust, I had to give this recipe a try!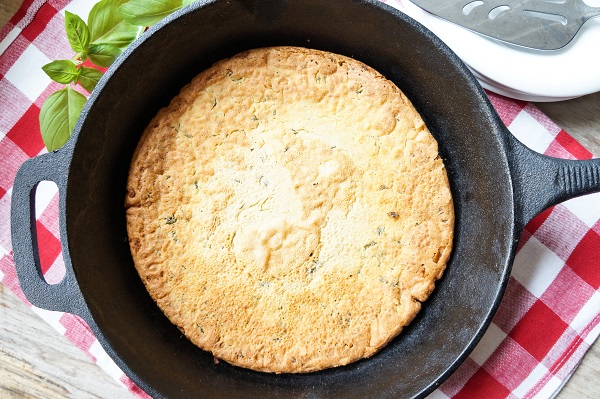 Socca is actually a traditional dish from Nice, France. It is often served as an appetizer. There are many different uses for Socca but I decided to serve it as more of a flatbread with my Lentil-Mushroom Pasta. This was kind of a big deal because it has been close to 5 years since I've had any sort of bread with my pasta dishes! Yikes!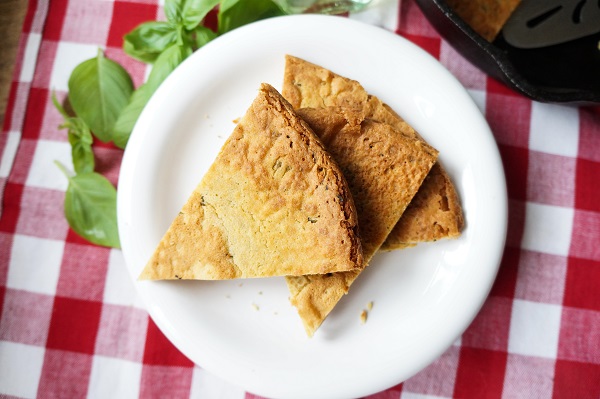 I am thrilled to share with you it was worth the wait because the Socca was actually better than any of the other breads I used to eat. I did adapt the recipe just a bit. I added some extra fresh basil, oregano and thyme. I had some fresh herbs in my garden that I was dying to use and this gave me the perfect opportunity. There are minimal ingredients and it is super easy to prepare. I will warn you – you need to make the batter ahead of time and let it sit either overnight or for a few hours prior to baking. It's really no big deal because it's SO easy to put together. Baking time is also minimal.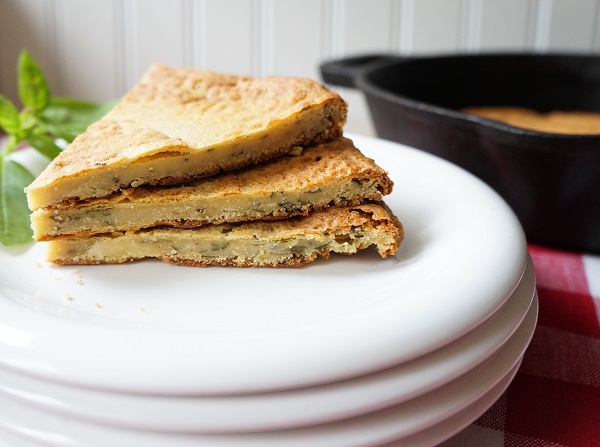 So, what's my verdict on Socca? As you can tell, I LOVE it! Use it as a pizza crust, use it as a flatbread or an appetizer. The choice is yours – enjoy!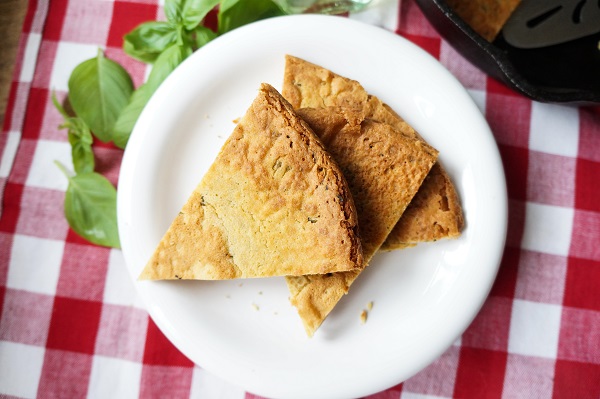 PS…Rebecca has some awesome recipes in her book! I highly recommend picking up a copy.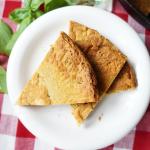 Print Recipe
Socca
A multi-use Socca that is naturally gluten-free and vegan! Chickpea flour makes this a great flatbread or a healthier alternative to pizza crust!
Ingredients
1

cup

chickpea flour

salt and pepper to taste

1

teaspoon

chopped thyme

1

teaspoon

chopped basil

1

teaspoon

chopped rosemary

3

tablespoons

extra-virgin olive oil

1

cup

water

*1 tablespoon coconut oil for the bottom of skillet
Instructions
In a big bowl, mix the chickpea flour with the salt, pepper and spices.

Add the olive oil, water and mix until the dough is thick but still liquid like, like pancake mix.

Let the mixture sit on the counter, covered, either overnight, all day long, or for a few hours.

Preheat the oven to 400 degrees.

Place the coconut oil in a 9 or 10 inch cast iron skillet.

Once the coconut is melted and the skillet is coated, pour the chickpea mixture over it so that the entire pan is coated.

Bake for 10 to 15 minutes, until the dough is firm and the sides are golden. The center will still be quite yellow.

Flip over the socca pancake and bake for another 10 to 15 minutes.

Remove from the oven and place on a plate. Enjoy!