So sorry we haven't posted in a while! We've been super busy with real life and unfortunately, the website has taken a back seat but I plan to rectify that in the coming months and deliver you some more amazing vegan recipes that I know you are going to absolutely love!
I hope everyone had a great weekend!  There is just something about the first signs of winter that are so energizing!  Life just seems better when it's fresher and more colorful outside.  My tastes also completely change in the winter.  I start craving comfort foods, focusing more on hearty vegetables and deep rich desserts.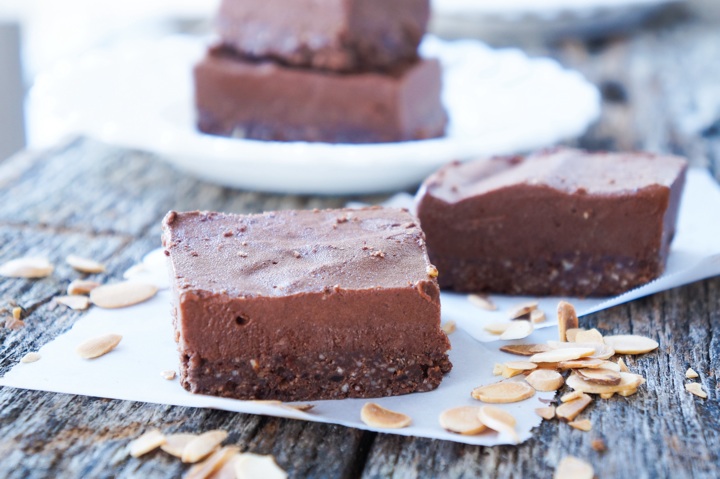 The last few weeks here at Southern Vegan Kitchen have been quite busy!  In a good way though.  There are actually a few special projects that are in the works.  Once things are finalized, I'll certainly fill you in.  However, with being so busy lately, I have been in need of a no-fail comfort food dessert recipe! These chocolate bars are just the ticket whenever I'm in a pinch and need something delicious.  I actually can't believe I haven't posted this recipe yet.  It's one of my all-time favorites and I make this recipe at least once every couple of weeks.  It's one of those treats that always makes me smile when I know they're in the freezer.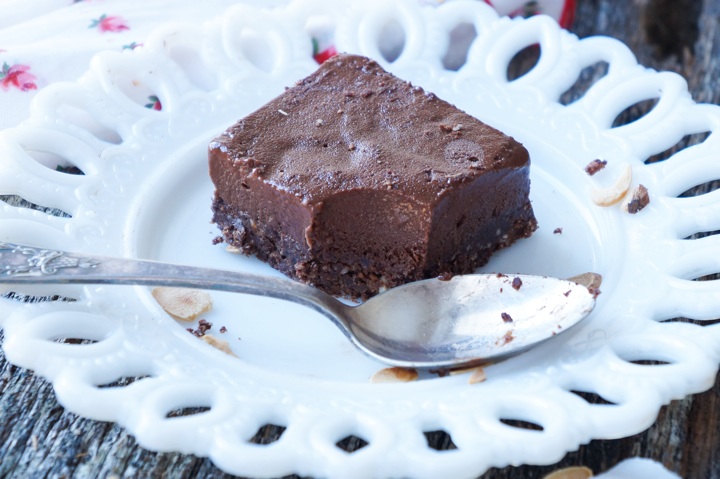 Why do I think you'll love this recipe?  For starters, it's super quick and easy.  It's also one of those treats that everyone loves – even those skeptics who aren't totally on board with the plant-based way of eating.  Another reason I think you'll like these bars as much as I do, you will feel totally amazing after you eat this dessert – I promise!  A lot of times when you think of a dessert you think about how good it tastes going down but then how bad or guilty you may feel after you eat it.  Not this one, it's actually one of those rare desserts that tastes good and leaves you feeling even better.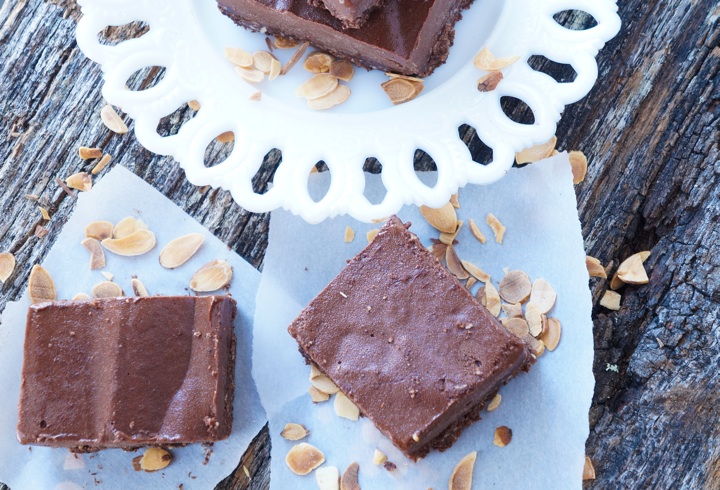 Why does it make you feel so good when there is absolutely no SUGAR, FLOUR or DAIRY??  Maybe because it's loaded with potassium from the bananas or maybe it's the antidepressant benefits from the unsweetened cocoa.  It has been said that unsweetened cocoa can actually boost endorphins, which are responsible for the natural highs felt after exercising or laughing.  I'm not sure what it is, I just know that I LOVE these bars and could eat them every night – seriously!  So trust me – try these bars ASAP – you won't be disappointed – I promise! Special thanks to chef Rachel over at cooklogic.com for the inspiration to make this one!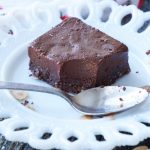 Print Recipe
No-Fail Chocolate Bars!
Looking for an easy, no fail dessert without added sugar or dairy? This is the perfect dessert! Satisfy your sweet cravings with this rich, creamy chocolate filling and a slightly sweet and nutty crust.
Ingredients
Crust Ingredients
1

cup

raw almonds

1

cup

raw walnuts

2

tbsp

unsweetened cocoa

4

large pitted dates
Filling Ingredients
4

frozen bananas

2

tbsp

unsweetened cocoa
Instructions
Put almonds, walnuts, dates and cocoa in a food processor and mix until a sticky crust forms. Add more dates or a touch of water if mixture is too dry.

Remove crust from food processor and place in an 8x8 baking dish lined with parchment paper for easy clean-up.

Put bananas, cocoa and a dash of sea salt into the food processor. Mix until well an ice cream texture is formed.

Pour banana mixture into the baking dish. Place in freezer for about 30 minutes prior to serving. Store in freezer. Enjoy!