Oh my!  Have I got a treat for you today!  Last week I shared with you my hubby's new favorite dessert, Peachy-Clean Cobbler.  Well, this week I am sharing my new favorite dessert!  This dessert is to die for and what a great treat to serve to plant-based and meat eaters.  Everyone will flip for this dessert.  That is if you like chocolate, peanut butter and ice cream.  What's not to like about those ingredients.  As you probably know by now, those are all my personal favorites!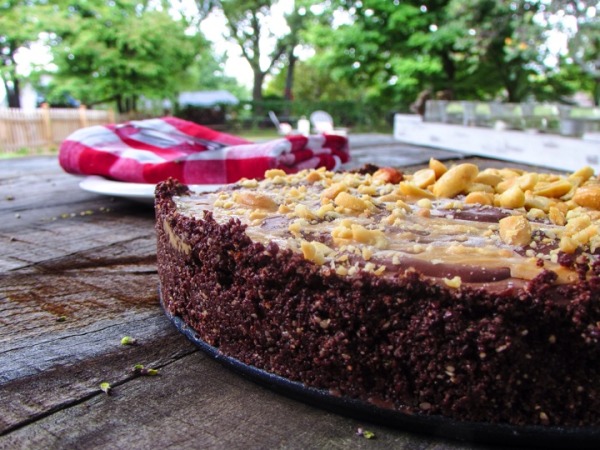 My hubby and I both have birthdays in October, one day apart.  How crazy is that?  Anyway, since we don't eat typical birthday cakes, every year I make our favorite vegan treat.  I'm not gonna lie, the first birthday I had after turning to a plant-based diet was a little difficult.  I was dying to dip into flour, egg, sugar filled cake and dip my finger in some fluffy chocolate icing.  Well, you'll be glad to know that feeling has passed.  I have learned that you can find replacements that are just as delicious and you can get that same special occasion satisfaction.  This year promises to be the best birthday treat yet – it is going to be this pie!  This is definitely one of the most decadent deserts in my recipe box.
I was a little nervous about making this desert because I am not used to using a spring form pan but all went well.  No issues at all with the new pan.  Remember, you are talking to someone who never cooked until I discovered the plant-based diet and all of the delicious recipes.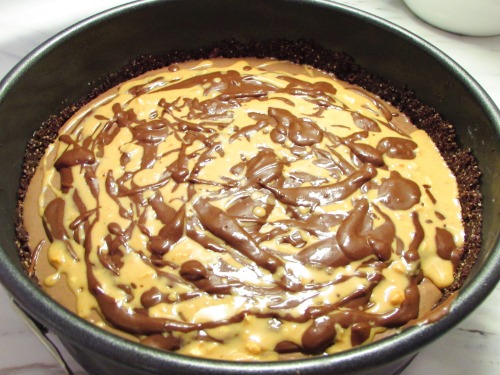 I discovered this little gem of a recipe on This Rawsome Vegan Life,  Of course, I did alter it just a bit.  The original recipe calls for whole flax seeds, which I didn't have at the time.  So, I just added some extra hemp seeds.  I also opted for 1 cup of cashews versus 2 cups and added an extra banana.  I like cashews in ice cream desserts because they make them a little creamier.  However, I don't like to use too many cashews because I don't want to be able to taste them.   I also drizzled the pie with my own version of chocolate and peanut butter sauces.
I love the fact that this dessert is so decadent and so beautiful yet so easy.  For special occasions, this is a great go-to dessert!  Give it a try…I promise it won't disappoint!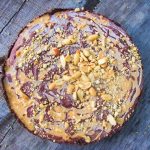 Print Recipe
Peanut Butter Chocolate Dream Pie
Ingredients
Crust Ingredients
1

cup

dates, pitted

1

cup

hemp seeds

3

tbsp

unsweetened cocoa
Filling Ingredients
4

frozen bananas

1

cup

dates

1

cup

cashews

2

tbsp

coconut oil, melted

1.25

cup

water or vegan milk as needed (I used almond milk)

0.25

cup

unsweetened cocoa

2

tbsp

nut butter (I used peanut butter)

Optional – Drizzle the top with chocolate sauce and peanut butter sauce and sprinkle with chopped peanuts…see below for sauce recipes…
Chocolate Sauce
6 large dates, pitted

3/4 cup water

1/4 unsweetened cocoa

1/4 coconut oil, melted

*Mix all together in a food processor until creamy and drizzle on top of pie.
Peanut Butter Sauce
2 tbsp. peanut butter

1 tbsp. coconut oil

Just mix together and melt over low-medium heat and drizzle on top of pie.
Instructions
Filling Instructions
Blend dates and water in food processor until a syrup is formed.

Add the remaining filling ingredients in your food processor until smooth, adding additional milk or water as needed to make it even creamier.


Spread evenly into your pie crust.

Swirl nut butter and chocolate sauce on top of pie. *Optional – sprinkle with some chopped peanuts!

Freeze overnight and thaw a bit before serving. Enjoy!