his may be the easiest recipe I have posted to date but it is truly one of my favorites!  It's loaded with fresh strawberries and plenty of natural goodness to keep you feeling light but still very satisfied. Speaking of strawberries, I hope you are enjoying some fresh in season strawberries right now.  They are SO sweet and tasty!  I promise I am not trying to bore you with SO many strawberry recipes.  On the contrary, I am hoping to provide you with as many strawberry ideas as possible, so you can enjoy this strawberry season as much as I am! This recipe was developed basically out of necessity.  I am a teacher, so quick and easy lunches are a must.  This recipe hit the spot when I was trying to figure out what to take on a recent field trip.  I needed something easy, portable and something that would stay somewhat fresh in a not so cold cooler.  This salad was perfect and oh so refreshing!
When I first switched to a plant-based diet I was truly overwhelmed as to WHAT TO EAT?  It took some time but after a while, I learned what essential ingredients I needed to always have available if I was going to stick to my new way of eating.  This Strawberry Salad is a mixture of those basic items that I have learned to always have in the pantry and fridge.  Some of the key ingredients that I try to keep on hand are various salad mixes, fresh fruits when in season, canned beans, avocados and various toasted nuts and seeds (Toasted nuts/seeds make everything better!).  These ingredients should provide plenty of vitamins/minerals, fiber and protein to get you through the day.  Truly, you can come up with so many delicious dishes if you keep a variety of these items handy.  These basics make my life SO much easier and tastier!
You might think about taking this sweet and satisfying strawberry salad to the pool or beach this summer – I am sure planning on it! Enjoy!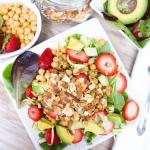 Print Recipe
Strawberry Salad
This simple strawberry salad is easy to assembly but BIG on flavor! In addition to being simple to make, it's also very colorful and oh SO good for you!
Ingredients
1

can chickpeas and/or garbanzo beans

16oz.

1

pint

strawberries

rinsed, hulled, sliced

1

cucumber

peeled and chopped

1

avocado

sliced

¼

cup

toasted sliced almonds

¼

cup

toasted sunflower and/or pumpkin seeds

mixed greens
Instructions
Place mixed greens in a large bowl.

Pour chickpeas onto of the mixed greens.

Garnish with strawberries, cucumber, avocado and top with almonds and seeds.

That's it - Enjoy!!!