Ya'll know I love to provide you with those scrumptious sweet treat recipes! Well, I promised hubby that I would start providing ya'll with more dinner and lunch options. "Real-food" recipes, as he likes to say. With that being said, have I got a super flavorful pasta dish for you today!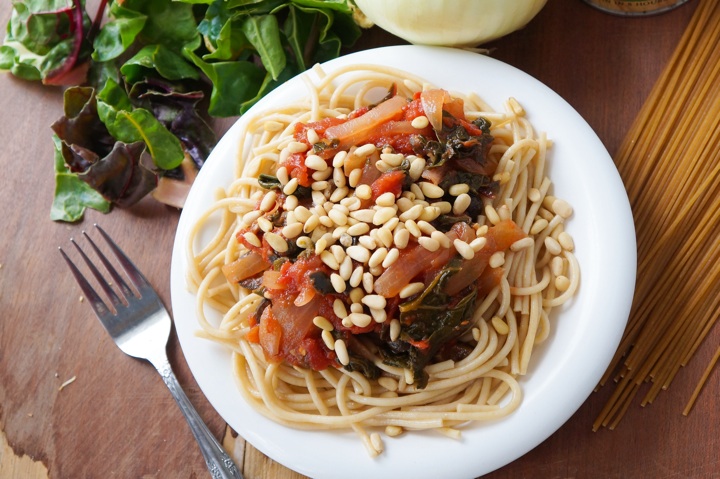 If you enjoy classic Italian pasta this is the ideal meal for you! This pasta sauce combines tomatoes, onion, and a touch of white wine which equals BIG flavor! No need to worry about enriched, nutrient-dense pastas. Go for the gluten-free quinoa or brown-rice pasta options. Or better yet, how about some spaghetti squash noodles. For that recipe, please check out my recipe here, http://southernvegankitchen.com/lentil-mushroom-pasta/.
I am a pretty tough critic when it comes to plant-based Italian recipes. Prior to my plant-based diet days, Italian was my FAVORITE! Nowadays, there are a lot of times I won't even bother making with Italian recipes because I'm afraid I'll be disappointed. However, this recipe totally hit the spot! I am so glad I gave this one a try. The combination of tomatoes, garlic, onions, white wine and black olives make this one of the best tasting pasta sauces I've ever had. The original recipe came from Giada at Home but I adapted it slightly. This sauce is so good you can eliminate the cheese and whole-wheat pasta and never miss a beat.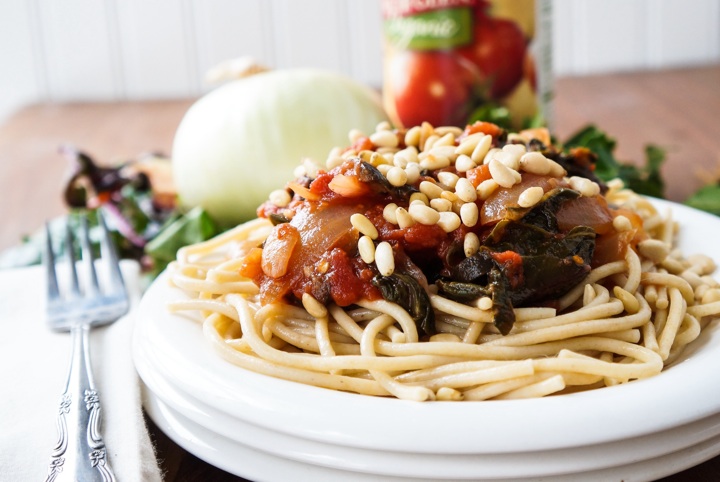 My most favorite pasta substitute is spaghetti squash noodles. I love the flavor and I love the fact that you're eating food in its most natural state. That is a rule of thumb I try to follow when selecting foods that are going into my body. When I was first diagnosed with Lupus I read Dr. Joel Furhman's Eat to Live book – which by the way, I highly recommend this read. The basis of this book is to fill your diet with nutrient-rich foods. One of the ways this can be accomplished is by eating foods in their most natural state. So, eating white or whole-wheat pasta is totally out because these types of pastas are so enriched they are actually stripped of any nutrients and low in fiber. You want a diet high in nutrients because that equals less hunger which means maintaining a healthier weight.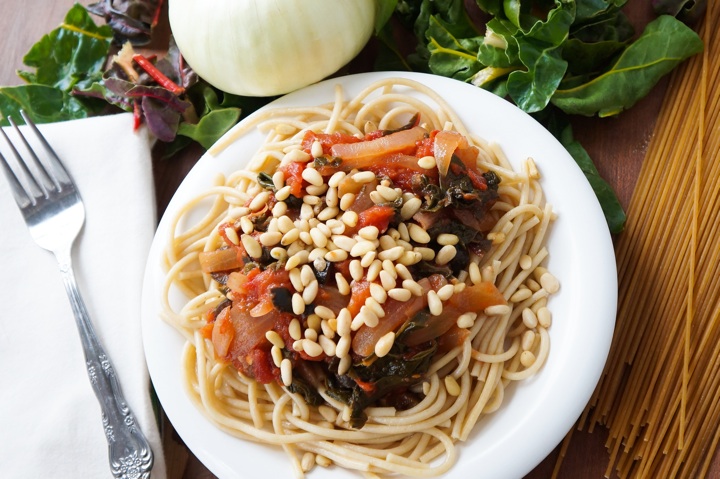 I have a couple other gluten-free, "go-to" pastas that I turn to when I don't happen to have any spaghetti squash on hand. My next favorite is quinoa pasta. Most grocery stores carry it now but if you have any trouble finding it you can find it here, Ancient Harvest Quinoa. Brown-rice pasta is another gluten-free option, I just happen to prefer the flavor of quinoa pasta.
So, go ahead and enjoy a healthier style Italian meal, without meat and cheese. If you're like me, you'll be glad you did!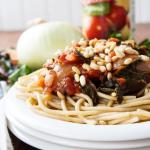 Print Recipe
Light and Easy Pasta
Looking for a tasty, healthy and easy dinner? This simple dinner comes together in a flash. This meatless meal will soothe your craving for Italian-style pasta but won't weigh you down!
Ingredients
1

tablespoon

olive oil

2

onions

thinly sliced

2

bunches of Swiss Chard

trimmed and chopped (about 4 cups)

4

garlic cloves

minced

2

14.5oz cans diced tomatoes with juices

¼

cup

pitted and chopped black olives

2

tablespoons

pine nuts

¼

cup

dry white wine

¼

teaspoon

dried crushed red pepper flakes

8

ounces

gluten-free pasta

quinoa or brown-rice pasta
Instructions
Heat oil in heavy large frying pan over medium heat. Add onions and garlic, sauté until tender.

Add chard and sauté until it wilts.

Stir in tomatoes with their juices, wine and red pepper flakes. Bring to a simmer. Cover and simmer until the tomatoes begin to break down and the chard is very tender, stirring occasionally, about 5 minutes.

Meanwhile, bring a large pot of water to a boil. Add the pasta and cook until tender. Drain the pasta.

Transfer the pasta to serving bowls. Top the pasta with the sauce mixture, olives and pine nuts (I toasted the pine nuts for extra flavor.) Enjoy!