It's that time of year when it is just too hot for the kitchen! The only thing I am turning the oven on for is the occasional roasted veggie or a quick batch of cornbread, per hubby's request. So, today's recipe is the perfect solution to those summer kitchen blues.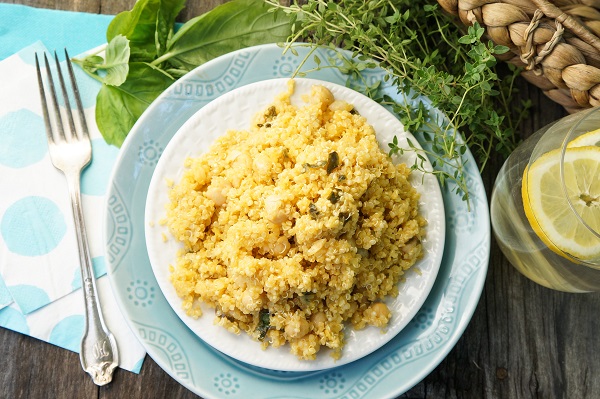 The only thing required of your kitchen is to boil some water. I think (maybe) I can do that, how about you? I actually adapted this recipe from Giada. She called her recipe Herbed Quinoa but I prefer Basil-Lemon Quinoa because I eliminated some of the herbs. Basil, lemon and thyme are the stars of my version. In my humble opinion, it doesn't get any more summer than a little basil and lemon with the addition of some fluffy and light quinoa!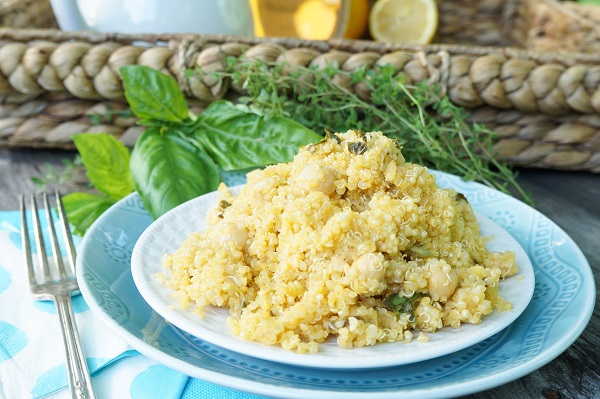 You know when it is SO hot outside that even if you eat an ice cube you feel bloated, well maybe not to that extreme, but you know what I mean. Well, this dish will leave you feeling totally satisfied without that bloated feeling, even in the heat.
basil quinoa 4 I actually added some chickpeas and served it as our main meal. I had to "beef" (not really) it up for hubby. Quinoa has plenty if protein on its own but not for the southern man I live with. Speaking of hubby, his response was "When are we having this again?" Music to my ears!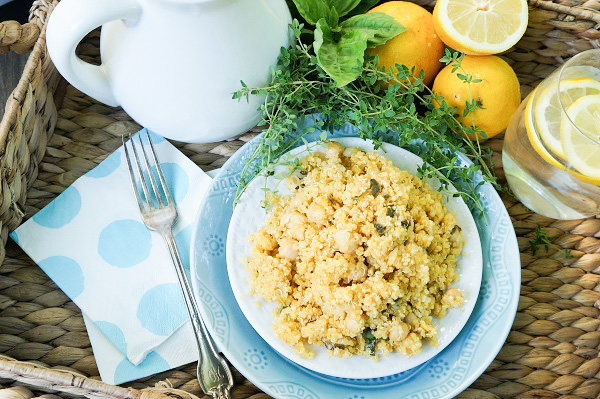 PS…This is the perfect dish for a picnic. You can serve it warm, room temp or chilled! Enjoy!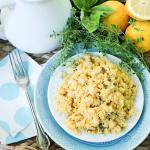 Print Recipe
Basil-Lemon Quinoa
Looking for that perfect light and easy dinner on a warm summer's night? This basil-lemon quinoa hits the spot! Easily made into a meal with the addition of protein-packed chickpeas!
Ingredients
Basil-Lemon Quinoa:
2

and ¾ cups veggie broth

¼

cup

lemon juice

1

and ½ cups quinoa
Dressing:
¼

cup

extra virgin olive oil

¼

cup

lemon juice

¾

cup

fresh basil

1

tbsp

chopped fresh thyme leaves

2

tsp

lemon zest

Salt and pepper
Instructions
For the quinoa-in, a med saucepan add the broth, lemon juice and quinoa. Bring to a boil over med-high heat. Reduce the heat to a simmer, cover and cook until the liquid is absorbed, about 15 min,

For the dressing. In a small bowl, mix together the olive oil, lemon zest, lemon juice, basil, and thyme. Season with salt and pepper.

Pour the dressing over the cooked quinoa and toss until all the ingredients are coated. If desired, incorporate a can of drained chickpeas. Season. With salt and pepper and serve. Serve warm or chilled. Enjoy!