Wow! It is such a great feeling to know you can actually have a cheese dip that is actually good for you! That was the case this past weekend when I ran across a delicious cheese dip recipe. The only difference between this dip and the typical cheese dips I used to eat is the fact that this cheese dip doesn't contain cheese! I know, I know…you're thinking how can this be tasty? Trust me, it is so divine you won't even miss the dairy.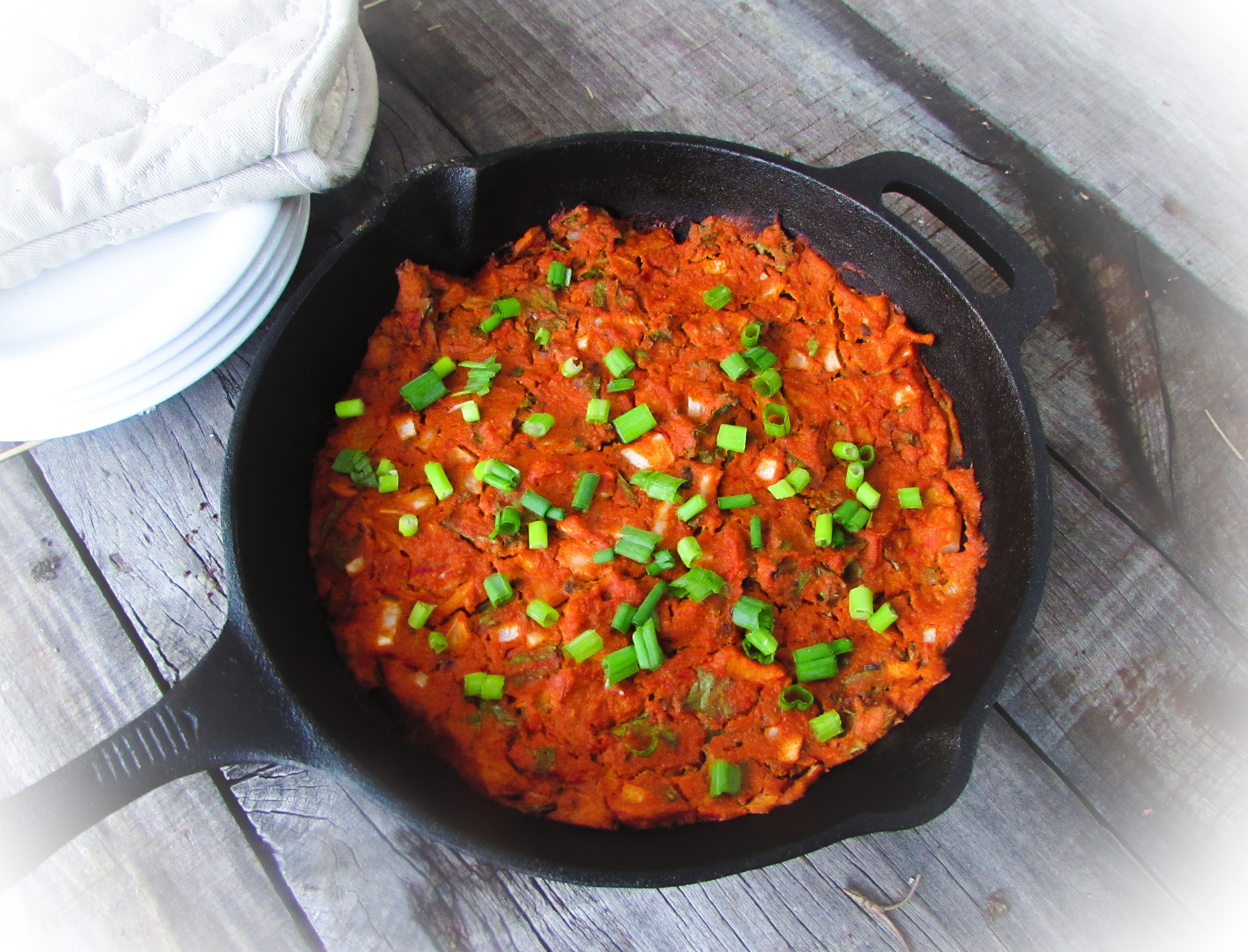 How can you make a cheese dip without cheese? Well, let me show you. First, the cheese sauce is actually made of processed cashews, nutritional yeast, almond milk, chili powder and cayenne. We've talked about nutritional yeast before…this is a vegan's version of cheese but in the form of flakes, like parmesan cheese. Nutritional yeast also contains B12, which is a crucial vitamin that us plant-based folks need to make sure we get plenty of in our diet. Also, I use a fortified almond milk that contains B12, plus I take a B12 supplement 3 times a week.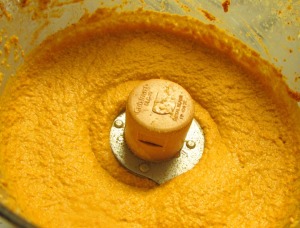 Once you get the cheese dip made you can move to the sauce. The sauce contains marinara sauce (I used WF brand with no sugar), onion and kale. You just combine the dip and sauce and pour into your skillet. Then, you bake for about 30 minutes. If you've got a big game coming up or even a Halloween celebration this would certainly be a crowd pleaser, even for those meat eaters guests. I topped mine with green onions and served it with corn tortilla chips.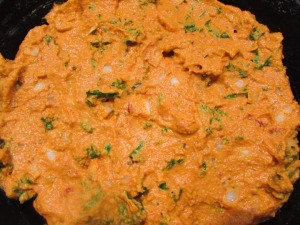 Cooking the dip in a skillet also gives it that special southern twist that I love! What is it about a skillet that I love?? I don't know maybe it's because my Nanny used to make everything in a skillet. I mean everything! She may not have gotten the whole plant-based diet, because she was a true southern fried woman, but I am sure she would appreciate me using a good old-fashioned cast iron skillet.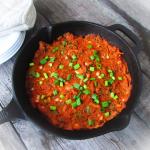 Print Recipe
Skillet Style Cheese Dip
Ingredients
Cheese Sauce
1

cup

raw cashews

soak for at least 2 hours or overnight

1

cup

chopped carrots

2

tbsp.

nutritional yeast

2

tbsp.

lemon juice

1

clove

garlic

1 1/4

tsp

sea salt

to taste

1-2

tsp

chili powder

to taste

1/2

tsp

onion powder

1/2

– 1 tsp cayenne pepper

to taste

2/3

cup

water
Dip
1

cup

chunky marinara sauce

1

cup

finely chopped sweet onion

3-4

handfuls of kale

roughly chopped

1 -2

green onions finely sliced for garnish

*Serve with corn tortilla chips.
Instructions
Preheat oven to 400 degrees and lightly grease a 2 qt. cast iron skillet. (I used vegan butter to grease my skillet.)

Place the carrots in a small saucepan and add water to cover. Bring the water to a boil and cook the carrots for 5 minutes, or until fork-tender. Drain and place in a food processor or blender.

In your food processor or blender, combine the soaked and drained cashews, cooked carrots, nutritional yeast, lemon juice, garlic, salt, chili powder, onion powder, cayenne and 2/3 cup water and blend until smooth. Add a splash of water if needed. Pour sauce into a large bowl.

Stir the marinara sauce, onion and kale into the cheese sauce until fully combined. Spoon the sauce into the prepared skillet.

Bake for 25-30 minutes, uncovered. Garnish with sliced green onions and serve immediately with corn tortilla chips. Enjoy!