Want to give your body a little jump-start into spring? If so, I have the perfect combination of taste, flavor and antioxidants all rolled into one meal! This recipe is actually compliments of my hubby. Recently we both discovered how much we LOVE Swiss Chard! I know we're kind of late to the Swiss Chard party but better late than never, right? I think one of the reasons we just now discovered chard is because we have been on a kale kick for like the last 4 years. Really, not kidding. We love kale – kale in our smoothies, kale chips, sautéed kale…the list could go on and on. So, I'm actually glad we've stumbled across a new favorite green. Don't get me wrong, we still love kale but having variety adds to the spice of life!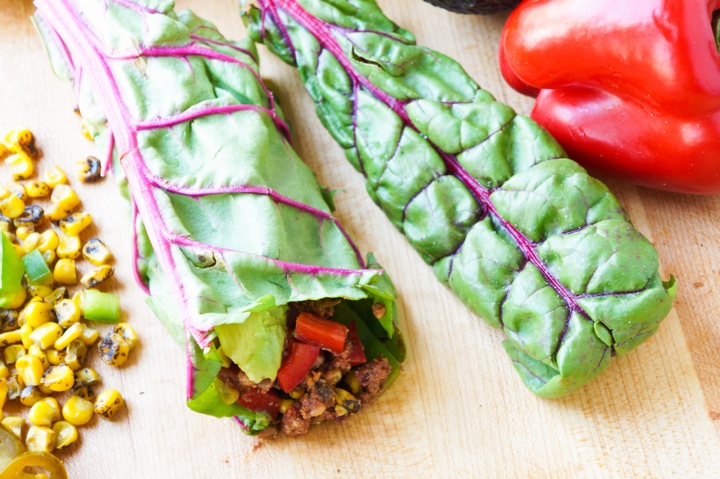 How did this Super Chard Wrap come about? I was actually making my taco salad meat the other night and my hubby happened to mention wrapping the meat in a chard leaf. At first, I thought yeah pretty good idea but I'm on a mission to make my favorite taco salad. You see when I am cooking I'm kind of in a different zone. My poor hubby, I bet sometimes he feels like he's talking to a wall. I guess you could say I get a little preoccupied – sorry hubby! I think it's actually turned into a little escape after a long day. (Okay, I know that just sounds crazy coming from a girl who never used to cook – but its' true!) However, for some reason that evening I decided to diverge from my taco salad mission and give the wrap a try. I hate to admit it but after my first bite I was hooked and realized hubby was onto something! He's definitely getting the hang of this healthy eating thing – yippie!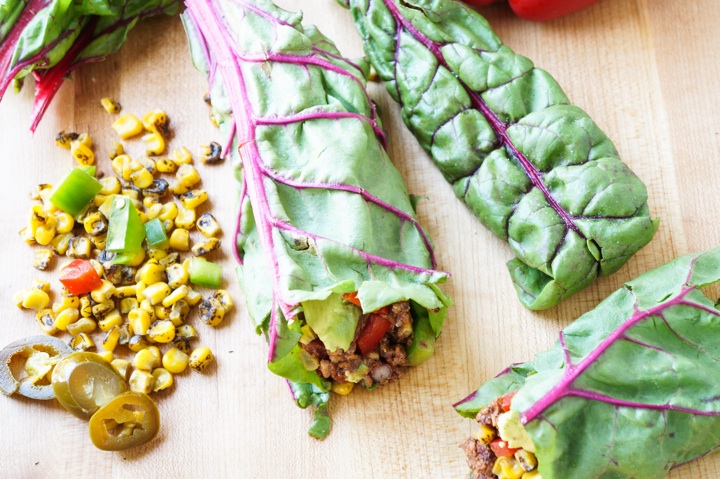 This meal offers so much goodness, you just can't help but want to add this wrap to your weekly menu. I've already had these wraps twice in just one week! I loaded the Super Chard Wraps with plenty of red and green peppers, avocados and my favorite walnut-meat. Every ingredient I used offers plenty of health benefits but don't forget about the health benefits of the feature ingredient – Swiss Chard. Wow! Where do we start – chard is good for your brain (boy, I can use that), eyes, hair, anemia (Lupus patients have issues with this one), weight loss, a cancer fighter, and great for blood sugar. All of this in just one tiny leaf. I don't know about you but I'd much rather eat a leaf than take a pill!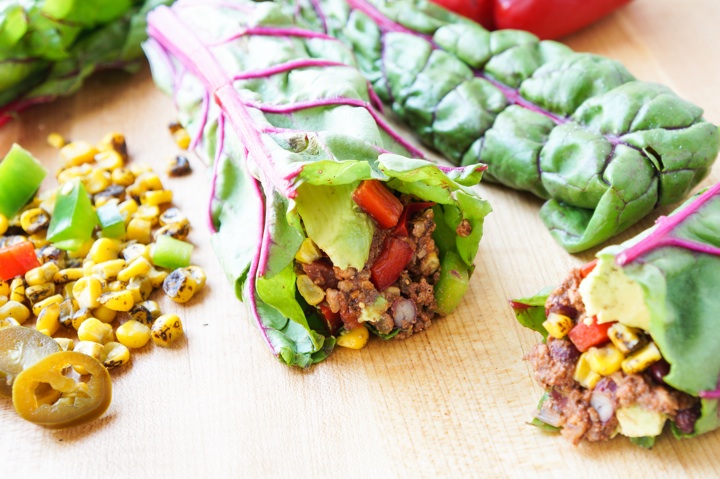 As for the actual wrapping process, that's actually surprisingly easy because the chard leaves are so large. I just cut off the long part of the stem and placed the filling in the middle of the leaf. I wrapped it, flipped it over and tucked under the ends. I found the wrapping so much easier than when I've tried to wrap other things like rice papers and tortillas. Forgive me for not having photos of the wrapping process – that's where my OCD kicked in and I was so focused on eating the final product I forgot! Oops – so sorry!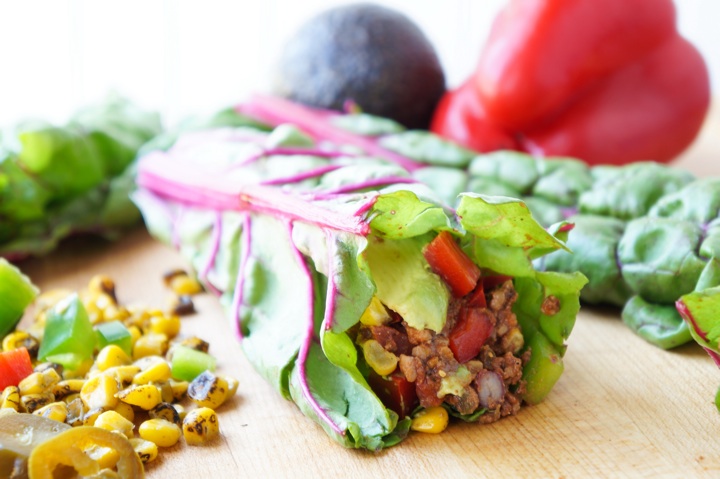 Not only does this Super Chard Wrap make a great light dinner it's also perfect for lunch and makes an impressive appetizer. Go ahead and SUPER CHARGE your health with this SUPER CHARD WRAP! Enjoy and feel good about your meal!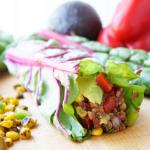 Print Recipe
Super Chard Wrap
Swiss chard makes this Super-Chard Wrap the perfect way to SUPER-CHARGE your health! Loaded with plenty of goodness and flavor!
Ingredients
Walnut Meat Ingredients
½

cup

chopped walnuts

more for a chunkier meat mixture

1

jar

16oz. salsa

1

can dark kidney beans

1

tablespoon

chili powder

1

teaspoon

cumin

¼

teaspoon

cayenne pepper
Filling Ingredients
1

red pepper

chopped

1

green pepper

chopped

¼

cup

finely chopped onion

1

cup

corn

1

tablespoon

chopped jalapenos

optional

1

avocado

flesh, chopped
Wrap:
6

large Swiss Chard leaves
Instructions
Pulse walnuts in food processor until finely chopped.

Place chopped walnuts in a skillet and cook on medium heat until slightly browned.

Once walnuts have browned, pour the jar of salsa into skillet. It is going to sizzle a little – don't worry this is normal.

Stir in spices and simmer for about 10-15 minutes.

When meat mixture is complete lay a Swiss Chard leaf flat and place 1-2 tablespoons of meat in the middle of the leaf.

Layer toppings: red pepper, green pepper, corn, avocado and jalapenos. Feel free to add toppings of choice - get creative!

Wrap and serve!