I love posting healthy recipes!  However, posting recipes every week can be a good and bad thing.  Good because obviously, you get to try a multitude of delicious recipes!  Bad because obviously, you get to try a multiple of not so delicious recipes.  Such was the case this past weekend.  Guys, I had wonderful intentions of providing you with a delicious pumpkin pie recipe for the upcoming holidays.  I started out with an awesome crust – it was delish!  Then, I moved to the pumpkin pie filling.  This makes the fourth year I have attempted a no sugar added pumpkin pie.  This also makes the fourth year that I have not been thrilled with the results.  When I first switched to an all-natural, vegan diet I used quite a bit of natural sweeteners such as brown rice syrup and agave.  Now don't get me wrong, when using those types of sweeteners, my pumpkin pie was delicious!   However, since I now strictly use fruit sugars, it hasn't been so easy perfecting the pumpkin pie.  With all of that being said, I am not going to be providing you with a sub par pumpkin pie recipe today.  Instead, you are going to get my all-time favorite "go-to" dessert recipe – Chocolate Peanut-Butter Brownies!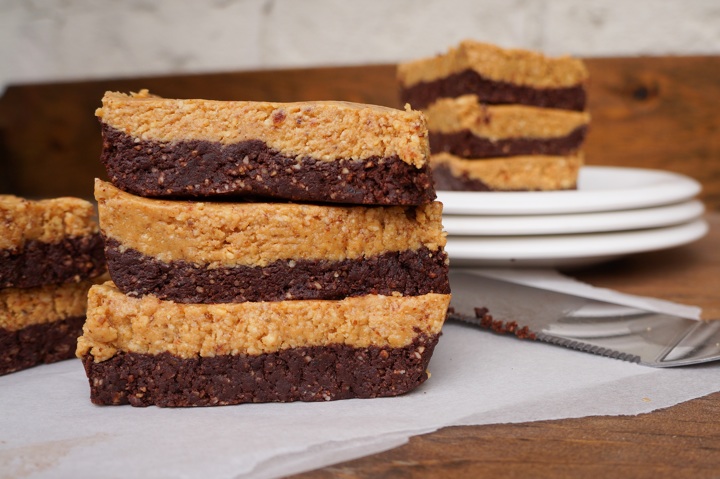 I always turn to these bars/brownies when I am in a time crunch or know that I must have a sweet treat that is going to please everyone.  This is a never-fail brownie that you will be glad to serve anytime.  I especially like to make these if I am taking a treat to a special get together.  They are easy to transport and easy to serve.  Despite having two layers, they are also super easy to make and assemble.  All you do is combine the nuts, dates and cocoa in a food processor for the brownie mixture.  The peanut butter layer is just peanuts, peanut butter and dates.  Again, just use your food processor to combine and then layer on top of the brownie mixture.  Super easy, delicious, and healthy.  Not only do these bars make a great dessert, you could also use these for a pre-workout energy boost.  They are LOADED with protein!  A little tidbit…we all know peanuts are heart healthy but did you realize they can actually help you lose weight.  You heard me right, a prospective study published in the journal Obesity shows, people who eat nuts at least twice a week are much less likely to gain weight than those who almost never eat nuts.  Wonder if that holds true if you eat these brownies every day – ha ha!  I wish!  Even still, I hope you enjoy your chocolate peanut-butter brownies!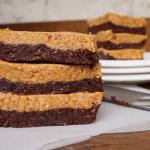 Print Recipe
Easy Chocolate-Peanut Butter Brownies
Ingredients
Chocolate Brownie Layer

1

cup

raw walnuts

1

cup

raw almonds

1

cup

dates

pitted

1/2

cup

unsweetened cocoa powder

pinch

of sea salt

Peanut Butter Layer

1/2

cup

dates

pitted

1/2

cup

raw almonds

1

cup

peanuts

1/2

cup

natural peanut butter

Watch out for peanut butters – so many of them have added sugars and oil!
Instructions
To make the brownie layer, pulse dates, walnuts, almonds, cocoa and salt until well combined. If mixture is too dry, add a bit of water. You want it to be sticky.

Press brownie layer into an 8×8 pan lined with parchment paper.

Press until flat using your hands and place into the freezer.

To make peanut butter layer, process dates, almonds, peanuts and peanut butter until well combined.

Press on top of the brownie layer.

Cut into squares and store in fridge in an airtight container. Enjoy!!!