So, the holidays are coming upon us. They will actually be here before we know it – yikes! If you're like me, cooking is not something you're going to have a lot of time for. I hope this quick and easy wrap helps make your holidays a little more fun and healthy.
I wish I could take credit for this yummy creation but I can't and I won't. This recipe came from one of my favorite cooking shows. I was shocked when I came across this recipe because I rarely see veggie only recipes on TV. I soooo wish one of those brilliant culinary experts would come out with a vegan, sugar-free cooking show. Wouldn't that be awesome! Wouldn't that make our lives so much easier! Until then, I'll be glad to keep my eye out and try to provide you with healthier versions of some of those ever so-popular recipes. Hopefully, today's recipe will do just that and hit the spot!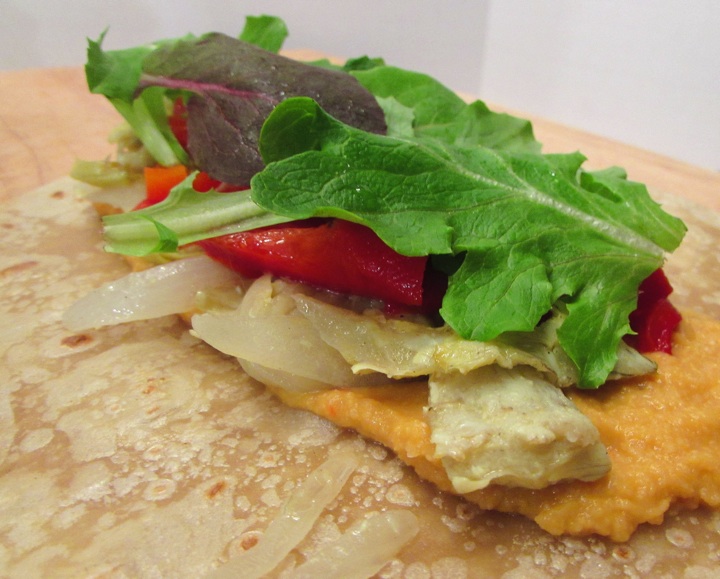 What I love about today's recipe is the fact that it is so easy and you don't feel heavy after you eat it. It's so nice to have a satisfying meal but not have that awful heavy feeling after you eat. I know we have all had a basic hummus wrap but this one has a few surprises. The sliced red roasted pepper, grilled onions and artichokes make this wrap extra special! The roasted red peppers are a healthy addition that are packed with nutritional benefits. According to Livestrong.com, red peppers contain 80% of Vitamin C, 15% of Vitamin A and 15% of your Calcium requirements. What great reasons to add those red peppers to your plate!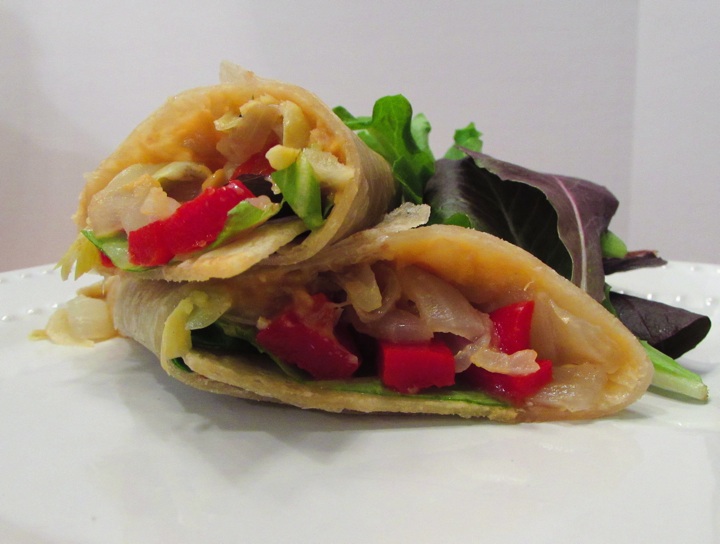 All you have to do is slice the onions and peppers and then rough chop the artichoke hearts. You will need to slightly brown the onions. I used my iron skillet which I think added a little more flavor to the onions or maybe I just like cooking in an iron skillet because it's a "Southern Thang"! Then, you just start the layering process. First, I added the hummus, then the cooked onions, artichoke hearts, roasted red pepper slices and mixed greens. That's all you need to do and your set with a delicious and healthy meal!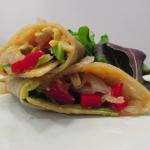 Print Recipe
Servings
Quick and easy hummus artichoke wrap. Perfect lunch or dinner during those upcoming holidays!
Ingredients
1

tbsp.

olive oil

½

red onion

sliced

1

brown rice flour tortilla

or tortilla of your choice

¼

cup

hummus

I used roasted red pepper hummus.

3

whole canned artichoke hearts

chopped slightly

1

whole roasted red pepper

sliced (jarred-find one without added sugar)

2

cups

mixed greens
Instructions
Heat olive oil in a cast iron skillet.

Add the onions and stir until soft and golden brown. Set aside until cool.

Place tortilla in same skillet, not too long. I just placed mine in the skillet for a few seconds, just warming the tortilla.

Assemble the tortilla: Hummus goes first, then cooked onion slices, roasted red pepper slices, artichoke hearts and last add the mixed greens.

Carefully, wrap the tortilla and slice down the middle.