Today's recipe is the perfect light dinner during these hot summer months. Normally, I don't eat a lot of quinoa but lately I have found it to be the perfect option for a light yet satisfying dinner. There are all sorts of ways to dress up quinoa with things like veggies, nuts and dressings. You might say it's the perfect one-bowl meal – my favorite to make and eat!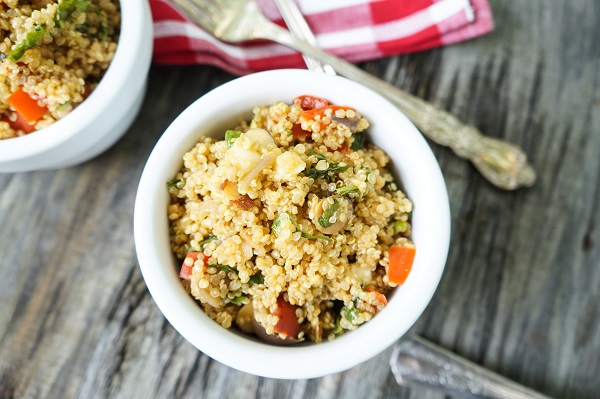 If I am going to have a grain, it's always quinoa. Quinoa is naturally gluten and wheat-free. It's the best choice for me health wise plus it's quick and easy. It also makes a great replacement for rice and pasta dishes.
Quinoa is interesting because it's not actually considered a true grain, it's actually a "pseudo-cereal." I know – what in the world?? Actually, quinoa is called a pseudo-cereal because it is technically a seed. One of the amazing benefits of quinoa is that it is one of the most protein-rich foods we can eat. Meaning, it is a complete protein containing all nine essential amino acids – super important for those on a plant-based diet.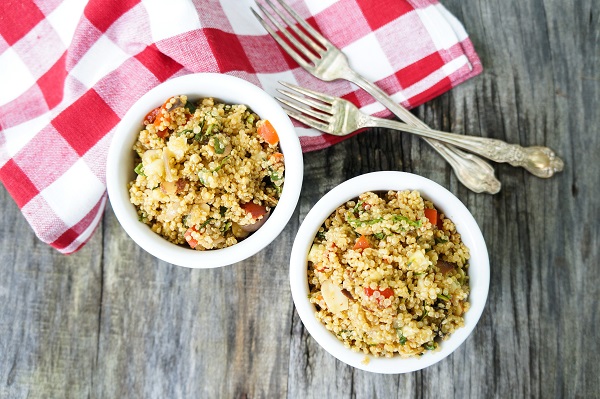 You can totally be creative with the veggies in this quinoa pilaf but one thing I wouldn't omit are the toasted almonds! Unless of course, you are allergic or just don't like almonds. In that case, select your favorite nut or feel free to go without. I just love the added flavor and the crunch factor. The other veggies are pretty simple red pepper, cucumber, shallots or onion, fresh basil and some arugula. You could also substitute any type of green. I think spinach or kale would also be delish!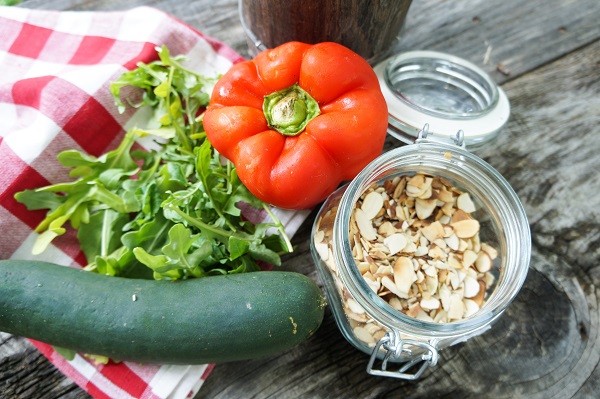 Speaking of summer…as summer winds down you may even want to include this for any upcoming Labor Day cook-outs because this dish can be served at room temperature or chilled. The choice is yours. Enjoy!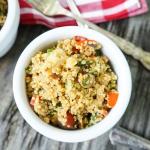 Print Recipe
Almond Quinoa Pilaf!
Quick, easy and bursting with flavor describes this quinoa dish! A high-protein dish with plenty of flavor and crunch!
Ingredients
3

tbsp.

of extra-virgin olive oil

2

large shallots

chopped

1

red pepper

chopped

1

tsp

sea salt

½

tsp

black pepper

1½

c

quinoa

¼

c

white wine

1½

c

veggie broth

1

packed cup arugula or greens of choice

½

c

toasted almond slices

½

c

fresh basil

chopped

1

medium cucumber

peeled, seeded and diced

zest of 1 lemon
Instructions
Heat 2 tablespoons of the oil in a large saucepan or a high-sided skillet over medium-high heat. Add the shallots and cook until soft, about 2 minutes.

Add the bell pepper, salt and pepper. Cook until the vegetables are tender, 5 minutes.

Make a space in the center of the vegetables and add the remaining 1 tablespoon of oil. Add the quinoa and cook, stirring constantly, until coated with oil, about 2 minutes.

Add the wine and cook until all of the liquid has evaporated, about 2 minutes.

Add the broth and bring to a boil. Cover the pan and simmer until all of the broth has been absorbed and the quinoa is tender, about 15 minutes. Keep covered and let sit for 10 minutes. Add the arugula, almonds, basil, cucumber and lemon zest and toss well.

Season with salt and pepper.