So, I think I have told you one of my guilty pleasure is watching cooking shows. I rarely watch TV but if I do it is usually a cooking show. It's not that I don't like TV, I just don't have the time. By the time I work all day, exercise a little and spend time in the kitchen, there is little to no time left for anything else. Of course, when I am watching my cooking shows I am always multi-tasking. For example, as I am writing this post I have one of my favorite cooking shows on in the background – secretly hoping for a recipe that I can tweak just a bit to make it plant-based friendly. So is the case with today's Peanut-Butter Cookie Cups!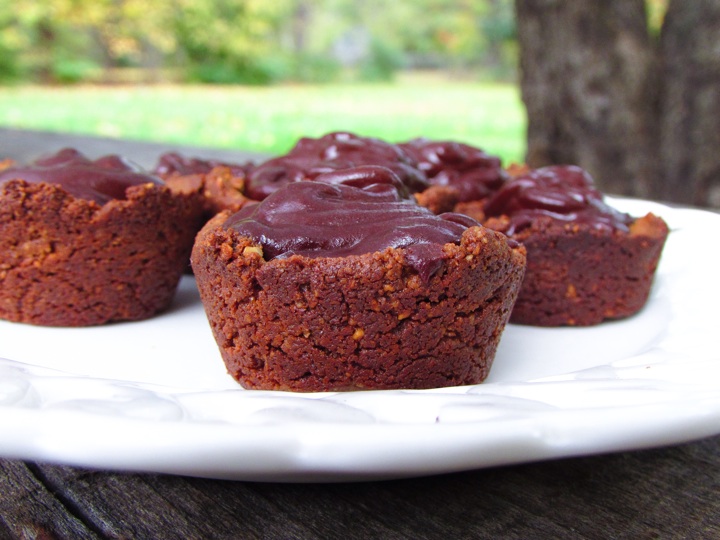 I am sure everyone has tried the traditional Reese's Peanut Butter Cup Cookies. You know the recipe that uses the peanut butter slice and bake cookie dough and Reese's cups. I used to love those cookies! My mom made them every Christmas and still does. Boy, how I wish I could have one of those cookies this year. Oh, guess what, now I can!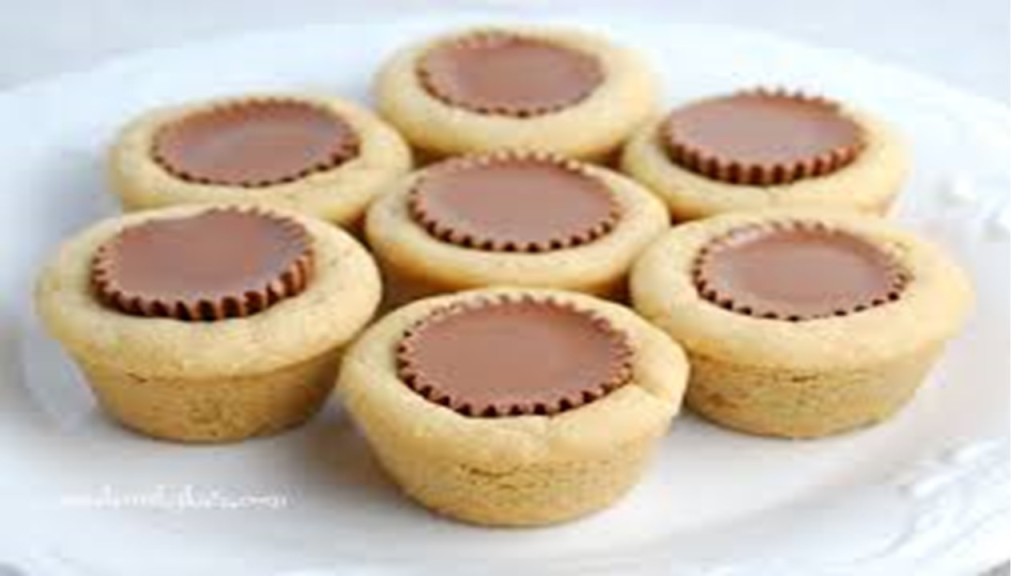 I know, I know… I don't eat sugar, I don't eat processed foods, I don't eat dairy. Well, this version of cookie cups doesn't contain any of those things, I promise! My cookies contain all natural ingredients and are sweetened naturally with dates. The main ingredients in these divine cookies are dates, almond flour, coconut oil, peanut butter, vanilla and unsweetened cocoa. That's it! I know it sounds too easy to be true but really they are so delicious and easy. Just a few healthy ingredients and minimal baking time. There is no excuse not try these! My excuse for making these cookies again…the upcoming holidays, of course!
See how easy…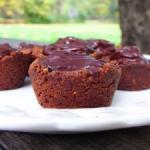 Print Recipe
Peanut-Butter Cookie Cups!
Ingredients
Cookie Ingredients
1

cup

almond flour

1/2

tsp

sea salt

1/4

tsp

baking soda

1/2

cup

peanut butter

1/4

cup

date syrup

3-4 large dates processed with 1/2 cup water

2

tbsp.

melted coconut oil

1

tsp

vanilla extract
Chocolate Icing Ingredients
6 large dates, pitted

3/4 cup water

1/4 cup unsweetened cocoa
Instructions
Preheat oven to 350 degrees and grease mini cupcake pan. (I just use coconut oil.)

Combine dates and water (slowly) in a food processor and mix until a syrup texture forms.

Add peanut butter, melted coconut oil, and vanilla to the date syrup.

Add dry ingredients to the food processor: almond flour, salt, and baking soda. Mix until well combined.

Scoop about 1/2 – 1 tsp of batter into the mini cupcake pan.

Bake at 350 degrees for about 10 minutes or until edges are golden.

Cool completely before adding the chocolate filling.
Chocolate Icing Instructions
Combine all the ingredients in a blender or food processor.

Blend until creamy, adding a little more water if the icing is clumping.

After cookies are cool, fill each cookie cup with 1-2 tsp. of chocolate.