First, let me apologize in advance for these pics. I absolutely cannot stand taking pictures using inside light, especially at night. However, this recipe was SO good and I knew we weren't going to have any leftovers. I really had no choice but to shoot away before this dish was gone! So, hopefully, you'll understand why these pics may not be the best but there is a method to my cooking/picture taking madness.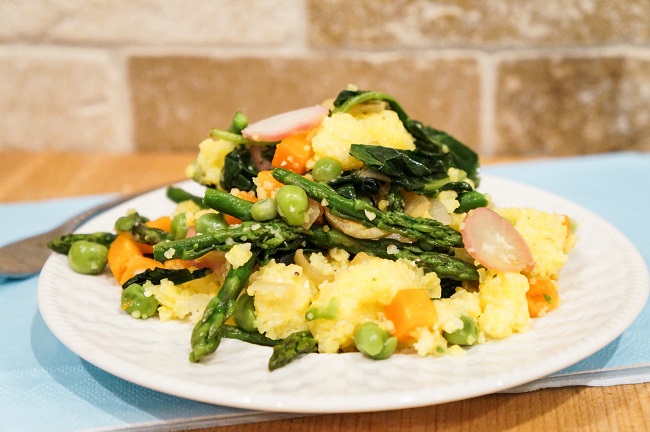 I ran across a similar version of this recipe in one of my favorite cookbooks, Green Clean Chic by Rebecca Leffler. Her version was called Millet with Spring Vegetables. Well, being from the south, I knew there was a way to give this recipe a little southern flair. So, can you really get any more southern than a good ole' plate of grits? I don't think so! Now, when most of us southerners think of grits we are usually thinking butter and maybe a little cheese. Sorry to disappoint but you won't be finding either one of those ingredients in this dish. Don't worry though- you won't miss them, I promise! These grits have something better – veggies sautéed in coconut oil!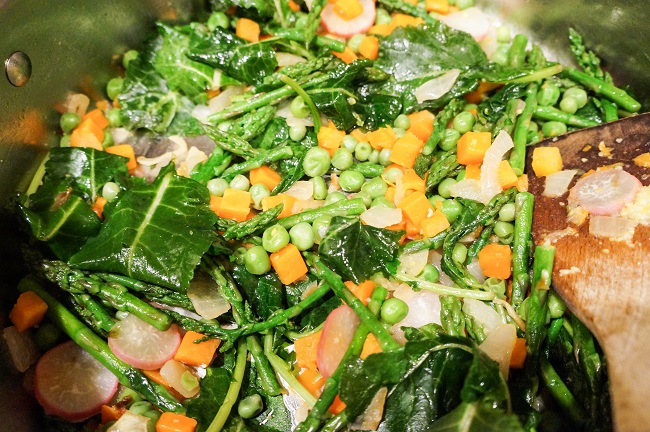 I don't know why I haven't thought of this dish before, it is such a delicious combination of flavors that I love. It goes without saying that this southern girl loves grits! I also love sautéed or roasted veggies in coconut oil. BTW…if you haven't tried this combination, you MUST! There is something about the richness the coconut oil that really brings out the flavors of the veggies. I haven't tried a veggie yet that wasn't extra delicious when cooked in coconut oil. By now, I'm sure you all know of a couple of benefits of coconut oil. There are too many to mention all of them but one of my faves is that fact that it is good for your immune system. Those of us with an autoimmune disorder are extra cognizant of this benefit.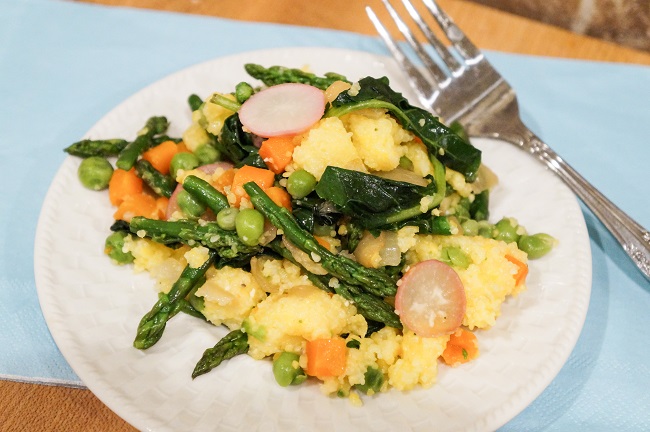 So, I also mentioned this recipe was easy. If you're like me and you see all the ingredients and all the chopping that is involved you may think twice before giving this recipe a try, especially when you're in a time crunch. No worries, I'm often known to take a few shortcuts. For example, I used frozen peas and carrots and used pre-washed, bagged spinach. I also used Bob's Red Mill Grits, which took all of 5 minutes to make. That just left me with the radishes, onions and asparagus which took no time at all to prepare. This is actually one of the quickest recipes I've made for dinner but you would never guess it by the flavor. Oh yeah, it's also hubby approved. Which anytime he gives the okay – I know it must be blog worthy. One last thing…with all the pretty colors in this dish, I'm thinking this might be a good option for Easter lunch. Just a thought! Hope you enjoy!!!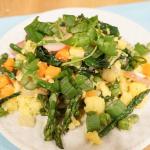 Print Recipe
Grits and Veggies
A hearty, meatless meal with a little bit of southern! Who knew sautéed veggies and grits were so perfect together?
Ingredients
½

Cup

Cooked Grits

6

Sliced Radishes

8

Asparagus Spears

2

Chopped Carrots

2

Garlic Cloves

1

Tbsp.

Coconut Oil

½

Cup

Diced Onion

2

Handfuls of Spinach

½

Cup

Shelled Peas

1

Handful Herb of Choice

I used Cilantro

Juice of 1 Lemon

1

Tbsp

Olive Oil

1

Tsp.

Apple Cider Vinegar

1-2

Tbsp.

Nutritional Yeast

optional

Salt and Pepper to Taste
Instructions
Cook grits according to package.

Rinse and slice the radishes.

Cut asparagus spears into small pieces.

Grate or finely chop carrots.

In a small pot over medium heat, heat the coconut oil and add the onions and garlic. Sauté for a couple of minutes. Add the radishes, asparagus, carrots, spinach and peas. Sauté for another few minutes, until they are tender.

While veggies are cooking make the dressing. Mix lemon juice, olive oil, vinegar, nutritional yeast, salt and pepper.

Add the grits to the finished veggies. Top with fresh herbs. Just before serving add the dressing.