How many times have you picked up some granola that looks totally healthy and then you look at the ingredients and the HORROR!!! Can you believe what they put in the granola these days and try to advertise it as healthy? I mean really the last time I checked there was nothing healthy about sugar and corn syrup. When I first converted to a plant-based diet I did run across some pretty healthy granolas but they did included sugars in the form of things like brown rice syrup, honey, agave or maple syrup. Even though those sugars aren't as bad as corn syrup they still don't agree with me. I was determined to come up with a healthy granola and after several tries I finally hit upon one that not only I enjoy but my body also appreciates.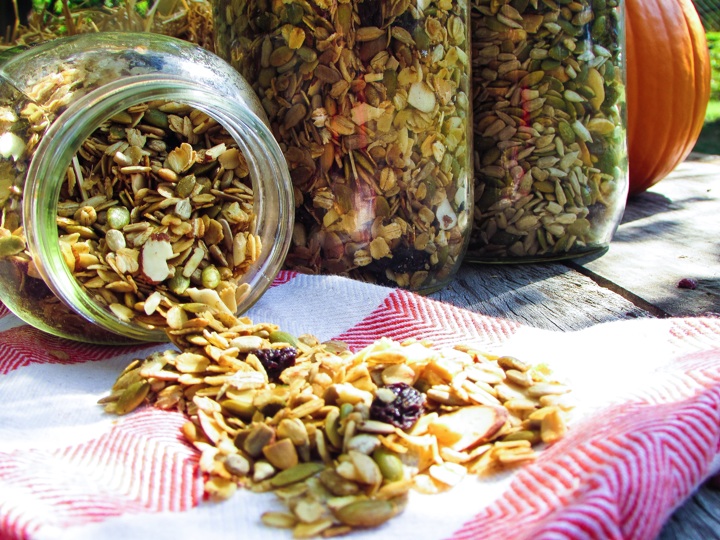 This mixture is a cross between a granola and a muesli. A typical muesli is made up of ingredients such as oats, fruit and nuts and that is basically what makes up this granola. I LOVE this granola as a breakfast alternative. I usually take a couple of jars with me when I go on vacation. No matter where I am traveling, I figure I can always scrounge up some fresh fruit and almond milk. Another reason I like to take this when traveling is because it also makes a great snack. Sometimes I have been known to mix a little of this granola with a spoonful of peanut butter – yummy! I advised my hubby to try this when he first switched to a plant-based diet because it is a pretty hearty snack even for him.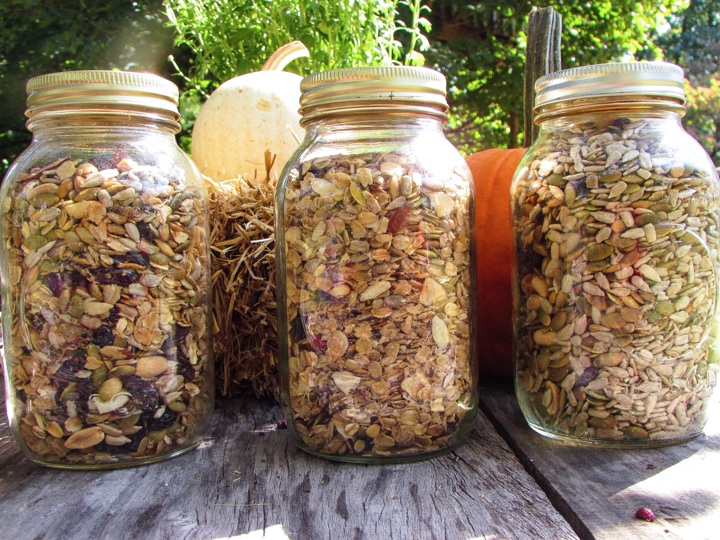 The best part about this recipe, besides the fact it is easy, is you can make a huge batch and it will last for a few weeks. You will only need a few ingredients…gluten-free oats, sunflower seeds, pumpkin seeds, almonds, raisins, flax-seed, cinnamon and the secret sweeteners are – COCONUT OIL AND ALMOND FLAVORING! Yes, you can have a sweet enough granola using just these two ingredients + the raisins. Trust me, I promise! By the way, did you know that it has been said that coconut oil can reduce belly fat!!! I say bring on the coconut oil and bring on the granola!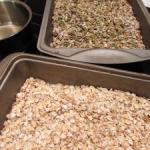 Print Recipe
Sugar-Free Granola
Ingredients
1

cup

raw sunflower seeds

1

cup

raw pumpkin seeds

1

cup

sliced almonds

1/2

cup

ground flax seeds

1/2 to 1

cup

raisins

depends on how much sweetness you want

1

cup

gluten-free oats

1/4

cup

coconut oil melted

1

tsp

almond extract

2

tsp

cinnamon

dash of sea salt
Instructions
Preheat oven to 350 degrees.

Put the nuts and seeds in a cake pan or a cookie sheet with sides. Toast until slightly brown – usually about 15 minutes.

While you are toasting the nuts and seeds, melt the coconut oil.

Remove nuts and seeds and pour into a large mixing bowl.

Add the coconut oil, raisins and spices to your nuts and seeds and stir until thoroughly combined.

Put the granola mixture back into the oven for another 10-15 minutes. Don't let your raisins get puffy – that means they will be very hard after they cool. Trust me – speaking from experience, you could break a tooth!

Allow for cooling time and store in airtight containers. Enjoy!