Jump to Recipe
Merry Christmas from Southern Vegan Kitchen! Some of you may be stopping by for the first time and I just want to thank you for taking the time to visit! In keeping with the holiday season I am hoping to help provide you with some tasty, yet healthy treats, to get you through the season without feeling deprived. I know when I first switched to a plant-based diet, the holidays were a little bit of a shocker. All of the foods that I used to look so forward to were totally off-limits. I'm not going to pretend that the first year wasn't a little difficult. I mean I am in the south and down here we take our southern holiday foods very seriously. However, that was then and this is now. Now, I actually look very forward to my new and improved healthy treats! The best part is, you don't have to worry about all those old New Year's Resolutions that you used to make. You know the ones about eating healthy and losing weight. Well, consider yourself free from that yearly tradition.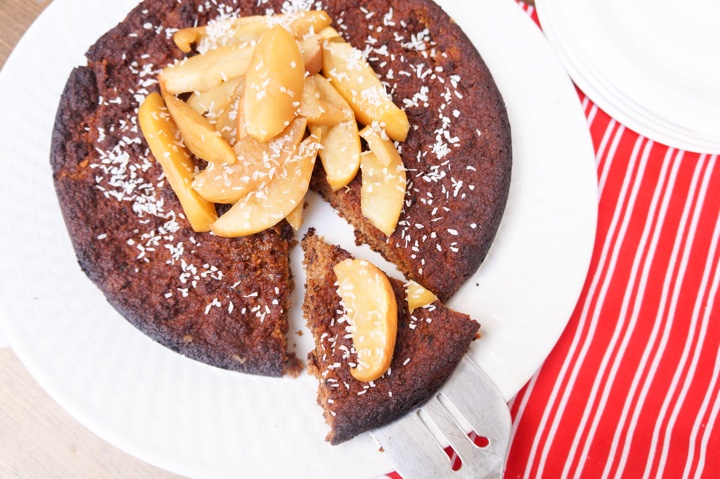 So, let's get this holiday season started. Today's treat is a healthier version of an old southern favorite…Lumberjack Cake. In case you haven't heard of it, the old version of this cake is LOADED with sugar, powdered sugar and dates. The reason this old southern recipe was easy to convert to a healthier version is because dates are plenty sweet on their own. Anytime I run across a recipe that calls for dates and sugar, I just leave out the sugar. It works almost every time. The dates in this cake give it a rich, moist and delicious flavor. It's a real crowd-pleaser…perfect for entertaining!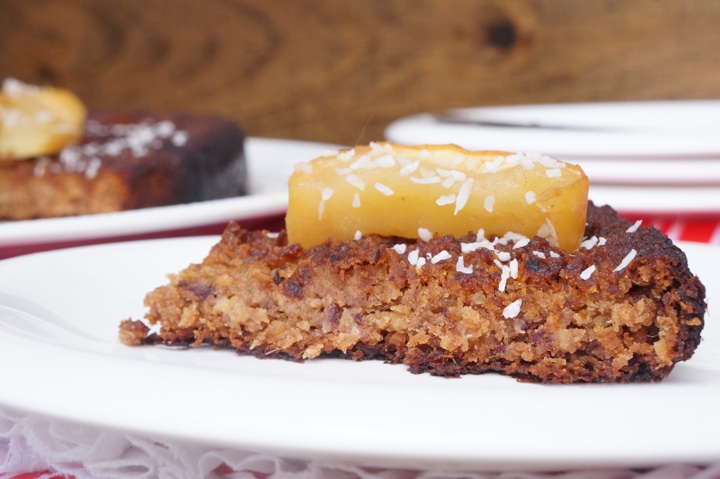 Another thing I love about this recipe is the apple topping. It is so easy and again no added sugar necessary. You could just eat the cooked apples by themselves and have a delightful dessert. The original recipe called for some added sugar. Instead of the sugar, I just added some unsweetened apple juice. Do you really need to add sugar to an apple??? Remember, an apple a day keeps the doctor away and when you think about all the health benefits of apples, it's easy to see why! For example, did you know apples protect against cancers, decreases your risk of diabetes, reduces cholesterol, heart healthy, prevents gallstones, controls weight, detoxifies your liver, and boosts your immune system (http://www.besthealthmag.ca/eat-well/nutrition/15-health-benefits-of-eating-apples). Wow! How bout' them apples!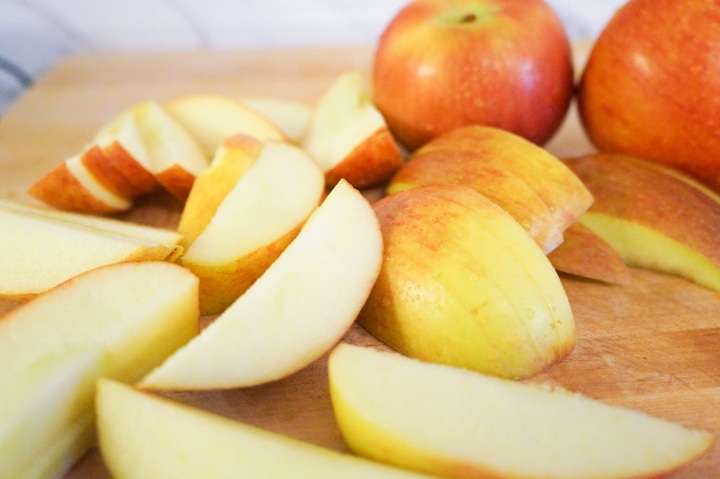 A quick side note…I found these awesome little parchment paper cake pan liners that worked beautifully. I found mine at Bed Bath and Beyond but I also saw some online at, www.smartbaker.com. These things work great, especially when using a springform pan.
Wishing you a very healthy, happy and blessed holiday season! Let them eat Lumberjack Cake!

Lumberjack Date Cake
Packed with dates, this cake is rich and moist. Perfect for the holiday season and a real crowd-pleaser!
Ingredients
1

cup

Pitted Dates

1

cup

Water

1

tsp

baking soda

1.25

cup

almond flour

0.25

tsp

sea salt

0.5

cup

vegan butter

1

flax-seed egg (1 tbsp ground flax-seed mixed with 3 tbsp water)

1

tsp

vanilla

0.25

unsweetened coconut flakes + 1 tbsp

4

apples, sliced and peeled

2

tbsp

lemon juice

0.5

cup

unsweetened natural apple juice
Instructions
Cake Instructions: Preheat oven to 350 degrees.

Line an 8 or 9 inch springform pan with parchment paper.

In a small saucepan bring dates and 1 cup water to a boil.

Remove from heat and add baking soda. Set aside and cool to room temperature.

In a small bowl, stir together flour, baking powder, coconut flakes and salt. Set aside.

In a large bowl, beat butter, egg, vanilla and date mixture on medium until well combined.

Add flour mixture gradually, until well combined.

Spread mixture evenly into prepared pan. Bake 40 to 45 minutes.

Top with apple topping and remaining coconut flakes. Topping instructions below...

Apple Topping Instructions: In a small skillet combine ½ cup water, ½ cup unsweetened apple juice and 2 tbsp lemon juice. Cook and stir over medium heat for about 15 minutes or until apples are tender.