By chance, did you get to try the Sun-dried Tomato Almond Burgers recipe yet? I hope so! Today's recipe is actually another terrific recipe from Dreena Burton's Plant-Powered Families cookbook. As I mentioned last week, I have been loving her recipes this summer. It has been such a nice change to add a few new flavors to our dinner table. Dreena has been vegan for over 20 years and has written numerous cookbooks, and it really shows in her recipes. She knows what she's talking about when it comes to health, flavor and satisfying a family at meal-time.
Today, I am sharing with you her Artichoke-Spinach Dip. This was an appetizer that I thought was long gone once I switched to a plant-based diet. I just didn't know how to replace the cheese and sour cream found in the standard spinach-artichoke dip recipes. Sure, you can always buy the vegan cheeses and sour creams but I really prefer to use unprocessed foods, even when it comes to vegan products. BEWARE – there are plenty of vegan processed "junk" foods on the market.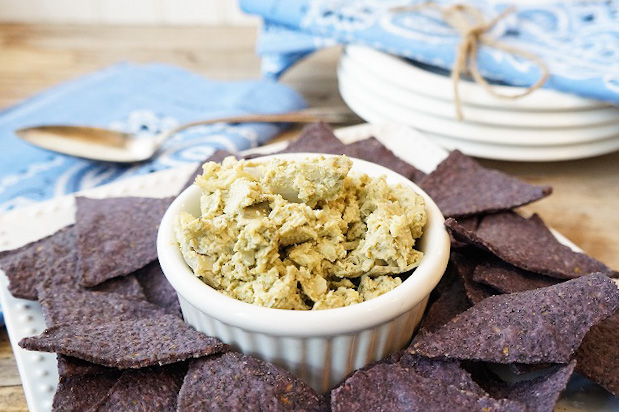 Dreena does a wonderful job of providing a cheese-like consistency to this dip by using a combination of cashews and non-dairy milk. Who knew there were so many uses for cashews? I have found cashews to come in very handy for not only dips but also cheesecake-like desserts. That's another bit of deliciousness that I promise to share with you in the near future!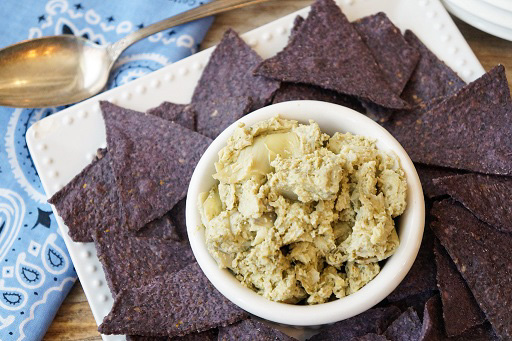 As far as this dip recipe, did I mention how easy it is to prepare. Truly, it took all of a matter of about 10 minutes to prepare and then you just bake the dip for about 20 minutes. Minimal ingredients were also used including frozen artichokes, spinach, cashews, non-dairy milk and some spices. Easy breezy and SO heavenly! I actually only got a few bites because my hubby ate almost all of it! Did I mention that he LOVED it!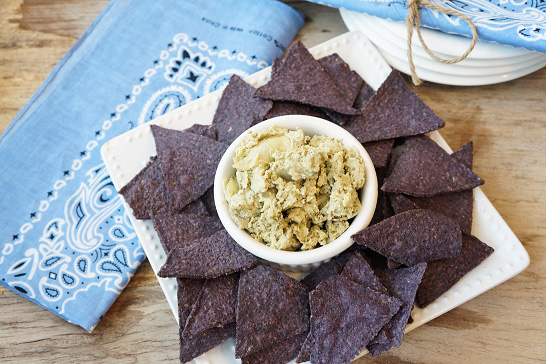 PS…Did I mention that every recipe I have tried in Dreena's cookbook is AWESOME!!! You gotta get this book!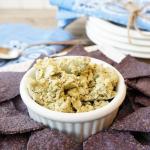 Print Recipe
Artichoke-Spinach Dip
The easiest Artichoke-Spinach Dip that you'll ever make! Creamy, cheesy, and flavorful with NO dairy!
Ingredients
¾

cups

raw cashews

not soaked is fine

2

cups

frozen artichokes

partially thawed

2

cups

loosely packed spinach leaves

1-2

garlic cloves or to taste

¾

cup

unsweetened nondairy milk

I used almond

2-3

tablespoons

lemon juice

¾

teaspoon

sea salt

½

dry

ground mustard

Black pepper to taste
Instructions
Preheat oven to 425 degrees.

In a food process or or strong blender, add cashews, garlic, sea salt, mustard, black pepper, milk and lemon juice. Blend until very smooth.

Add the artichokes and spinach and pulse but not too much, in order to keep some chunky texture.

Place in an 8x8 baking dish and bake for about 20 minutes, until lightly golden on top.

Serve with corn tortilla chips or try serving with veggies like romaine leaves or sliced red peppers! Enjoy!