It's almost strawberry season! Strawberry season just happens to be one of my favorite times of the year because that means making LOTS of recipes with super sweet strawberries! I'll never forget when I tasted my first strawberry. No, I'm not talking about when I was a small child, I'm talking just a few years ago. I am totally serious! You see, up until that point my taste buds were so saturated with artificial, processed and sugar-laden foods I couldn't really taste a REAL strawberry. I had been on a plant-based diet for about 2 months and I was eating some fresh strawberries. I'll never forget it, I took a bite and looked at my husband and said, "Wow, this thing is delicious!" Of course, hubby looked at me like I was a little cray-cray, which most of the time he is correct. However, this time I was really serious because it was truly the first time I had tasted REAL food and it was wonderful! Ever since then, I never bite into a strawberry or any other fresh piece of fruit for that matter, without truly enjoying their natural goodness.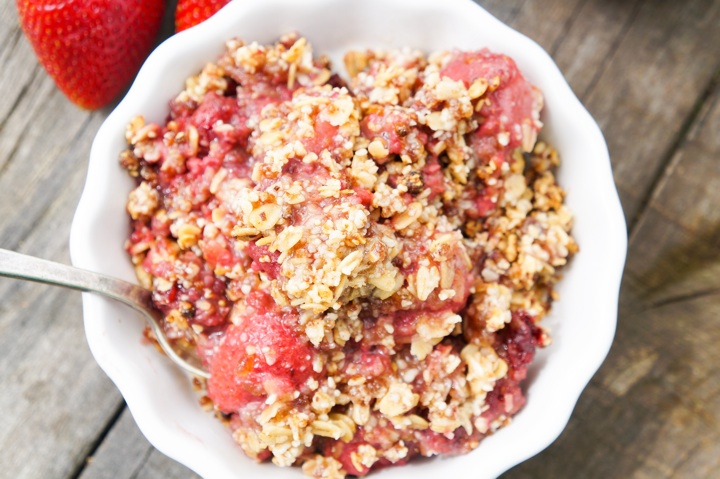 I also happen to love a good cobbler or a crisp but there is something extra special about cooked strawberries that provide an ultimate sweet flavor without any added sugars. No, I'm not kidding – no added sugars required. This strawberry skillet cobbler happens to be plenty sweet on its own. I also love cooking in a skillet. I guess it just makes me feel like I'm a true southern cook (wink, wink) even though we all know I am not. I actually heard an interesting little tidbit last week about cooking in an iron skillet. I read that cooking in an iron skillet can actually help boost your iron intake. Ya'll may have heard of this before but it was news to me. Actually, good news because when I was diagnosed with Lupus I was also diagnosed with Anemia, which is linked to a low red blood cell count and iron deficiency . Anything I can do to boost my iron is a plus. Another little bit of helpful information – strawberries are noted as being one of your best sources of Vitamin C. For some more interesting and helpful information on strawberries check out The World's Healthiest Foods article by clicking here: http://whfoods.org/genpage.php?tname=foodspice&dbid=32.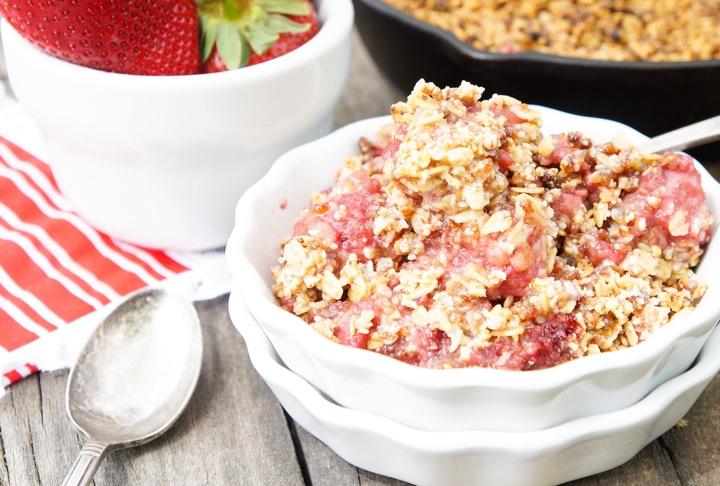 This recipe is actually based upon a recipe from one of my favorite new cookbooks! I have been following Deliciously Ella's blog for a while now and she just published her first cookbook, Deliciously Ella 100+ Easy, Healthy and Delicious Plant-Based Recipes. I love her recipes because they are simple, plant-based, gluten-free and free of refined sugars. I adapted the crust recipe for her Blackberry, Apple Crumble. I just made a few changes like omitting the maple syrup, which I did not miss at all because I substituted the dates, and the strawberries also add plenty of sweetness. I also switched the nuts and oats ratio because I happen to just like the taste of nuts better than oats and I'm not crazy about using too many grains, even if they are gluten-free. Just a personal preference.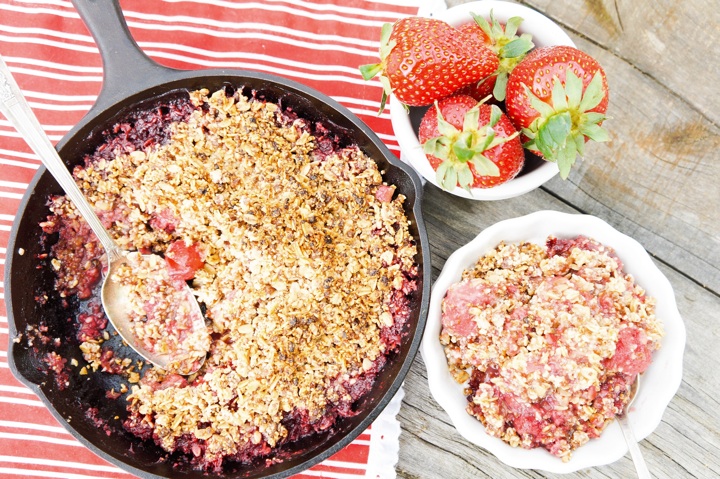 So, I'm thinking a Strawberry Skillet Crisp will definitely be on our dinner table for the upcoming Mother's Day celebration! This dessert is sure to please everyone and add just a little touch of southern to your table!
PS…Plan on seeing a few more strawberry recipes over the next few weeks. Did I mention how much I LOVE strawberry season!!! I hope you do too!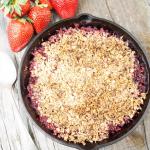 Print Recipe
Strawberry Skillet Crisp
A sweet strawberry crisp with no added sugars! The toasted nut and oat topping naturally sweetened with dates makes this the ultimate in strawberry goodness!
Ingredients
Topping Layer
1

cup

gluten-free oats

2

cups

almonds

6

Medjool dates

pitted

2

tablespoons

coconut oil

melted

2

teaspoons

cinnamon
Fruit Layer
2

pints

fresh sliced strawberries

1

tablespoon

coconut oil

1

tablespoon

lemon juice
Instructions
Start by placing 1 tablespoon of coconut oil in a 10 inch cast iron skillet. Place skillet in a 400 degree preheated oven.

Slice strawberries and then place strawberries and lemon juice into the preheated skillet. Return the skillet and strawberries to the oven while making topping.

To make the topping, place the almonds and dates in a food processor and mix until combined.

Then place the nut and date mixture into a large mixing bowl. Add the oats, melted coconut oil and cinnamon. Stir well until all the dry ingredients are coated.

Remove strawberries from oven and top with nut and oat mixture.

Return to the oven and bake for 25-30 minutes or until top is browned. Enjoy!