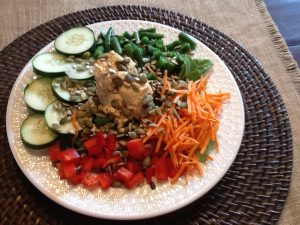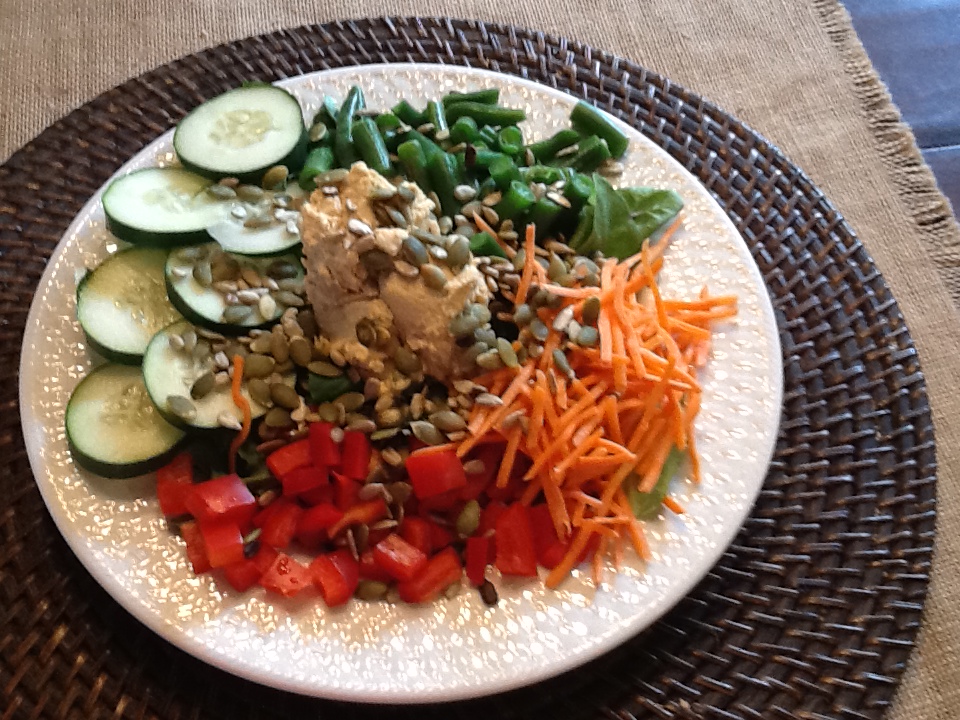 One of the things us southern girls love to do is to meet for lunch! We don't just like to eat anywhere we usually have our favorite southern bakeries and tea rooms that we like to frequent. One of my favorite bakeries serves unbelievable salads. The only problem is most of them have meat and/or cheese on them. No problem, I have learned just to ask them to hold the meat and cheese and substitute or add more beans. It works beautifully! I can still enjoy my favorite spots and lunch with the girls!
Today, I wanted to share one of my go to salads that I have several times a week. I am often in a hurry and don't have a lot of time. This salad definitely hits the spot for taste and ease. Another thing I have learned is that plant-based foods are a lot prettier than a burger and fries. One thing I am often reminded of when I sit down to a beautiful plate of plant-based foods is the fact that plants get their energy from the sun. So, as I am eating the plants I am also receiving energy to keep me fueled for the day!
Southern Salad
1 tablespoon of store bought or homemade hummus (see below for recipe)
1/2 Sliced Cucumber
1/2 Cup Shredded Carrots
1/2 Chopped Red Pepper (Or any other color – I love them all!)
*1/2 Cup Frozen Green Beans (These are awesome – just take them right out of the freezer and let them thaw for a bit!)
**1 Tbsp. of Roasted Sunflower and Pumpkin Seeds
A Couple Handfuls of Mixed Greens*If you are packing your lunch for the next day you can just put the frozen green beans on your salad and fridge overnight. The next day your beans will be perfect – I promise!
**I have found it is much better to roast your own seeds and nuts than buy store bought. When you buy them already roasted they usually have a ton of oil. I just pour my seeds onto a baking sheet and place in the oven at 350 degrees for about 5 minutes. Afterward, I just add a little sea salt and store in the fridge or pantry.
Homemade Hummus
2 Cans of Garbanzo Beans
1/3 Cup of Tahini
1/4 Cup Lemon Juice
1 tsp Smoked Paprika
Garlic to taste
Sea Salt
Just put all ingredients in your food processor for a couple of minutes. If your mixture is a little thick add some water. You should have enough to get you through a few days of lunches. Easy breezy and yummy to your tummy!