It's another strawberry recipe!  Are you tired of strawberries yet?  I sure hope not!  Strawberries are just beginning to hit their stride and they are getting tastier by the day!  I am always searching for delicious and EASY ways to incorporate these sweeties into my menu.  Today's recipe does just that!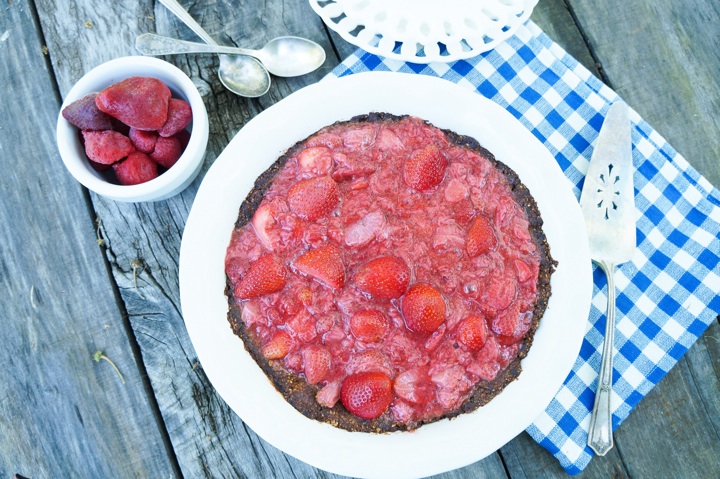 When I first switched to a plant-based, no sugar, no white-flour, gluten-free diet I was totally overwhelmed but also a little (A LOT) nervous about giving up my favorite thing in the world – desserts!  I was okay with giving up meat but the thought of giving up sugar was a bit too much for this southern girl to comprehend.  I mean desserts are the focus of a good southern meal!  I mentioned last week that I love strawberries because they were the first REAL fruit I tasted, once I detoxed my taste buds from artificial processed sugars.  Now, I only use fruits as my sweeteners.  I don't even like to use sweeteners like maple syrup or brown rice syrup because they are actually too sweet for me – who would have thought that a few years ago?  Certainly not me!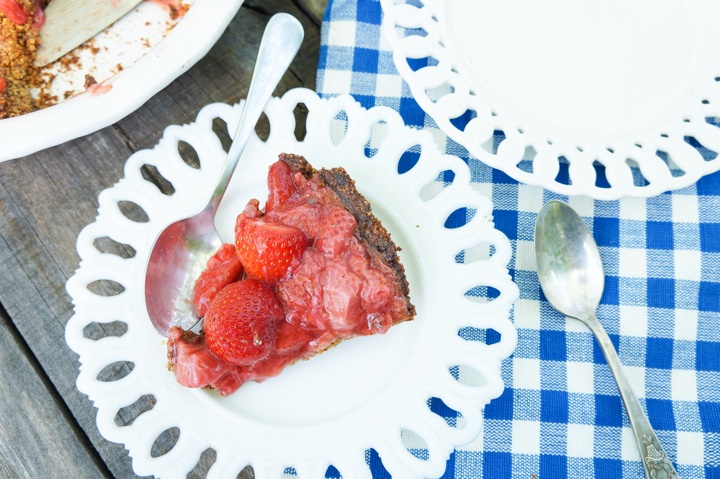 Some people ask why I don't eat sugar anymore?  Well, there are lots of reasons but I do feel like sugar was a primary culprit to my immune system breaking down.  I can't prove it but I know how I used to feel when I ate sugar and how I feel now that sugar has been eliminated from my diet.  What a difference!  As a matter of fact, the last thing I ate prior to my first true Lupus flare-up was a Red Velvet cake.  Wow – red food coloring and loaded with processed sugar, could it get any worse? Really, no wonder I couldn't walk the next day.  Another reason I don't eat refined sugar – no nutritional value.  Sugar adds no essential nutrients to your diet – why would you want to put that into your body?  Now, my goal is to only put foods in my body that provide some sort of nutritional boost.  After being so sick, it is comforting to know that the foods I consume are truly "healing" foods.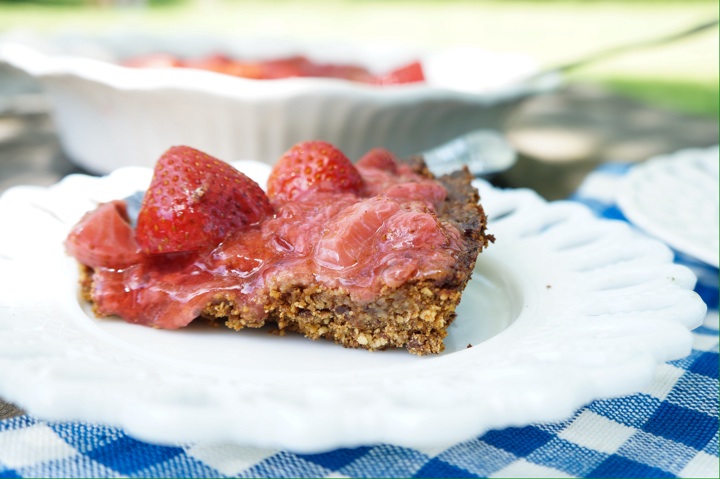 This Simple Strawberry Pie provides all of that and more – only natural goodness and sweetness.  By the way, did I mention how incredibly SIMPLE this recipe is.  Really ya'll, this is a no fail dessert and talking about impressive!  When people find out this pie is only sweetened with dates and strawberries – they won't believe it.  If fresh strawberries are tempting your taste buds go ahead and satisfy your craving with this Simple Strawberry Pie!  You'll be glad you did!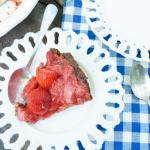 Print Recipe
Simple Strawberry Pie
Kick-off strawberry season with natural goodness and deliciousness! A simple strawberry pie with no added sugars that everyone will love!
Ingredients
Crust Ingredients
2

Cups

almonds

1

Cup

pecans

2

Tablespoons

coconut oil

1

Cup

dates

pitted
Filling Ingredients
2

Pints

of strawberries

Rinse, stem and slice - I like to slice most but I also leave a few berries unsliced.

1

Tablespoon

lemon juice

1

Tablespoon

arrowroot

¼

Cup

water
Instructions
Crust Instructions
Preheat oven to 375 degrees.

Place the pecans and almonds into a food processor and blend into a fine flour.

Add the coconut oil and dates and blend again until a sticky dough is formed.

Remove the crust from the processor and place into a greased dish.

Bake at 375 degrees until the top begins to brown, usually about 20-25 minutes. Remove and set aside to cool.
Filling Instructions
Place the strawberries and water into a pot. Bring to a boil, then add the arrowroot.

Turn mixture down to low and add lemon juice.

Stir constantly until the arrowroot has dissolved and a gel like substance is formed.

Remove mixture from the heat and let it cool to room temperature.

Pour the filling into the crust and place in the fridge for at least 3 hours. Enjoy!