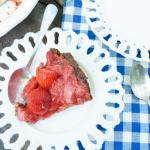 Print Recipe
Simple Strawberry Pie
Kick-off strawberry season with natural goodness and deliciousness! A simple strawberry pie with no added sugars that everyone will love!
Crust Ingredients
2

Cups

almonds

1

Cup

pecans

2

Tablespoons

coconut oil

1

Cup

dates

pitted
Crust Instructions
Preheat oven to 375 degrees.

Place the pecans and almonds into a food processor and blend into a fine flour.

Add the coconut oil and dates and blend again until a sticky dough is formed.

Remove the crust from the processor and place into a greased dish.

Bake at 375 degrees until the top begins to brown, usually about 20-25 minutes. Remove and set aside to cool.
Filling Instructions
Place the strawberries and water into a pot. Bring to a boil, then add the arrowroot.

Turn mixture down to low and add lemon juice.

Stir constantly until the arrowroot has dissolved and a gel like substance is formed.

Remove mixture from the heat and let it cool to room temperature.

Pour the filling into the crust and place in the fridge for at least 3 hours. Enjoy!