Yippie for blueberry season! This time of year is just my favorite – there are SO many luscious, sweet fruits to chose from and you can buy local, which is even healthier! I don't know if you have tried any lately but the blueberries I have eaten are just bursting with flavor! So, I figured why not pair some blueberries with my dearest LOVE – CHOCOLATE! If that wasn't already too good to be true, I had to add some homemade creamy coconut milk whipped cream. My sweet treat turned into a trifecta of ultimate goodness – if I don't say so myself.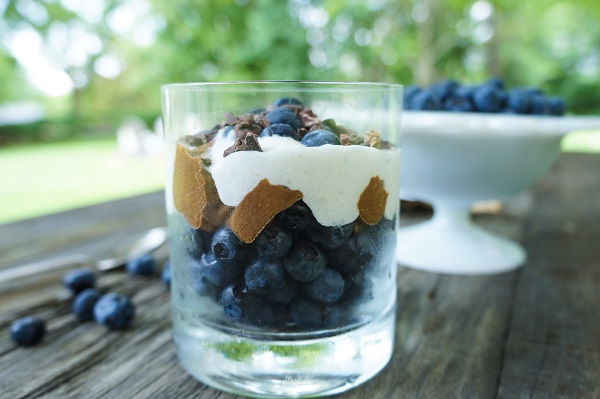 Of course, we can't overlook the amazing health benefits of the mighty blueberry. They have actually been touted as one of the world's "healthiest" foods. Not only are they deliciously sweet right now but they are actually pretty low with regards to the glycemic index, which makes them a great fruit option for those who are pre-diabetic or suffering from diabetes. Of course, what they are really known for are their antioxidant benefits. In addition, they are also good for memory issues. Oh my – pass me some more blueberries, please!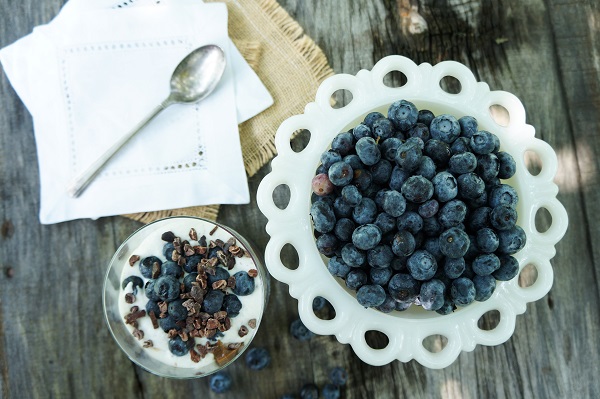 This little parfait may look innocent enough but as you can see it is LOADED with good for you benefits. In addition to the berries I also included my new favorite form of chocolate – raw cacao powder. You can purchase it through Amazon by clicking this here, or I have found it I'm telling you once you try this stuff you will not want to go back to the regular old unsweetened cocoa. Raw cacao powder is so much smoother and richer in flavor. It is also considered a "superfood" so you can feel even better about eating your chocolate – go ahead and add a little more chocolate pudding to your parfait, I certainly did!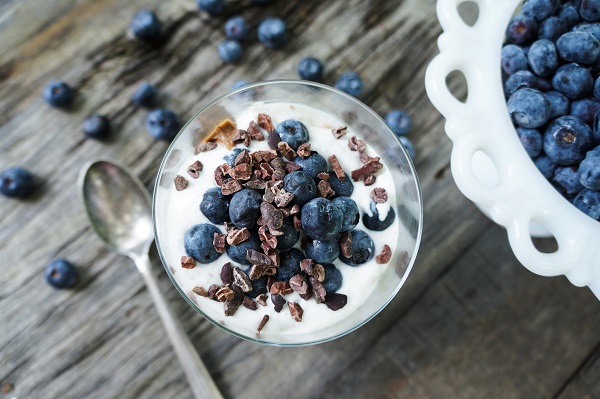 The best part about this parfait – you can tailor to how you are feeling. For example, you may be in the mood for something a little more decadent, so you can add a little more chocolate pudding. Or you may want something light for dessert but nothing too rich – just go lighter on the chocolate and add more berries. It's truly a great way to end a hot summer's day! Enjoy!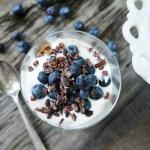 Print Recipe
Blueberry Chocolate Parfait
A super-food and super-easy decadent treat! Cacao and blueberries combined with coconut milk whipped cream - go ahead and indulge!
Ingredients
Chocolate Layer
1

avocado

pitted

½

cup

unsweetened almond milk

2

tbsp.

date syrup or sweetener of choice

1

tbsp.

cacao powder or unsweetened cocoa

1

tbsp.

coconut oil

melted

Coconut Milk Whipped Cream Layer

1

can

14oz. full-fat coconut milk, refrigerated for 6 to 12 hours

1

tbsp.

date syrup
Blueberry Layer
1

cup

fresh blueberries

Cacao Nibs - optional topping
Instructions
Chocolate Layer
Combine avocado, almond milk, date syrup and cacao powder in blender.

Blend until smooth. Add melted coconut oil and blend until smooth.

Coconut Milk Whipped Cream Layer

Open the chilled refrigerated can of coconut milk and discard any liquid.

Place the thick coconut cream in a mixing bowl and mix until fluffy.
To assemble parfait:
Start with a layer of blueberries.

Add the chocolate pudding mixture onto the blueberries.

Top with whipped cream and cacao nibs.

Enjoy!