I have been dying to share this new recipe with you guys!  I made it for the first time a few weeks ago and immediately my family let me know that I needed to share this recipe.  I was actually a little surprised that everyone loved it so much because most of my desserts revolve around chocolate.  However, when the warmer weather hit I started craving light and refreshing treats. That's exactly what this creamy goodness is – refreshing, sweet but not too sweet plus this ice cream gives you such an energizing and light feeling!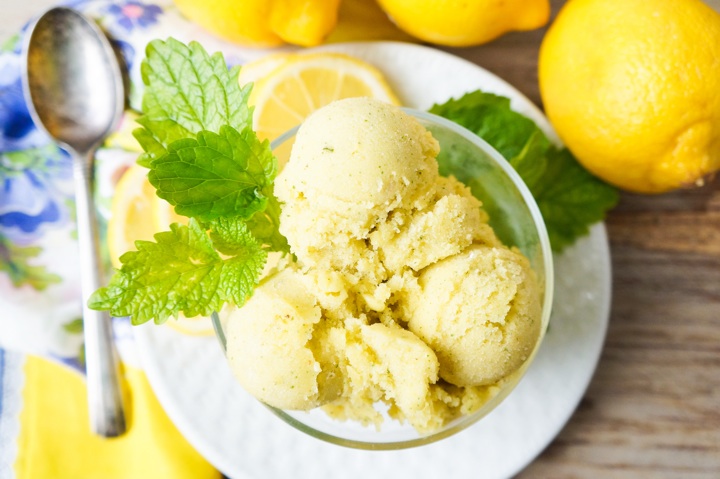 First, let's talk about Lemon Balm.   I actually started growing lemon balm a few years ago because I loved the smell, never realizing how many different uses there actually are for this fragrant jewel.  Then, I realized how wonderful this herb is when added to SO many different types of recipes.  I have added it to tea (hot and cold), salads and desserts.  Another thing I love about growing this herb – it's fail proof!  Trust me, if I can grow this herb anyone can.  Beware, it can take over your garden – it grows like crazy!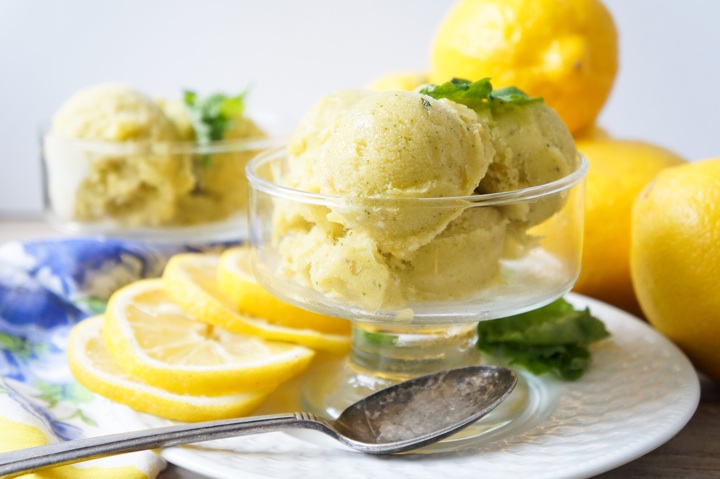 Of course, let's not overlook the fact that this creamy and refreshing dessert offers some health benefits.  Lemon Balm is actually known to be calming, reduce anxiety, promote sleep and improve indigestion.  It is also rich in antioxidants and provides benefits for our immune system.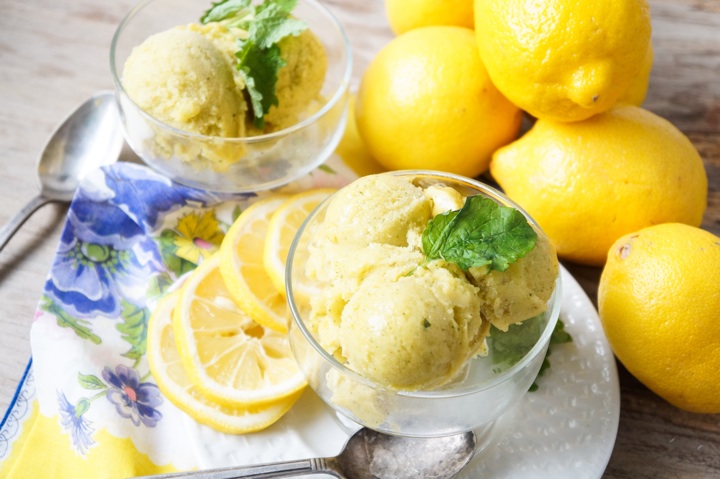 As far as making this ice cream…it doesn't get any easier than this dessert – I promise.  All you need is a food processor or powerful blender, frozen bananas, frozen mangoes, some sprigs of lemon balm and a non-dairy milk of your choice.  That is it and it takes less than 10 minutes to whip up this refreshing and energizing treat! Enjoy!
Lemon Balm Ice Cream
This ice cream is super refreshing and light and has a hint of citrus tang. Perfect for the warmer weather, when you want a treat but not something too heavy!
Ingredients
4

frozen bananas

1

bag of frozen mangoes

12oz.

1

cup

of chopped lemon balm

more or less depending on personal taste

½

cup

non-dairy milk

I used almond milk.

dash of sea salt
Instructions
Place all ingredients in food processor and combine until smooth and creamy. Add more milk as needed to achieve desired creaminess.

Enjoy!