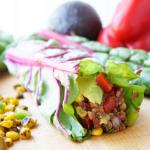 Print Recipe
Super Chard Wrap
Swiss chard makes this Super-Chard Wrap the perfect way to SUPER-CHARGE your health! Loaded with plenty of goodness and flavor!
Filling Ingredients
1

red pepper

chopped

1

green pepper

chopped

¼

cup

finely chopped onion

1

cup

corn

1

tablespoon

chopped jalapenos

optional

1

avocado

flesh, chopped
Wrap:
6

large Swiss Chard leaves
Pulse walnuts in food processor until finely chopped.

Place chopped walnuts in a skillet and cook on medium heat until slightly browned.

Once walnuts have browned, pour the jar of salsa into skillet. It is going to sizzle a little – don't worry this is normal.

Stir in spices and simmer for about 10-15 minutes.

When meat mixture is complete lay a Swiss Chard leaf flat and place 1-2 tablespoons of meat in the middle of the leaf.

Layer toppings: red pepper, green pepper, corn, avocado and jalapenos. Feel free to add toppings of choice - get creative!

Wrap and serve!