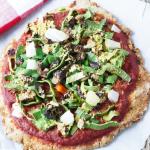 Print Recipe
Cauliflower Pizza Crust
Wow! A delicious grain-free pizza crust that is loaded with flavor, nutrition and super-easy!
Pre-heat oven to 390 degrees.

Cut off the florets of the cauliflower and place in a food processor and process until a rice like texture is formed.

Place the cauliflower rice in a non-stick skillet (with no oil) and cook over medium heat, for about 5 minutes.

Let cauliflower cool, then place it in a large napkin (cheesecloth would be best but I didn't have any) or a strainer and remove as much water as possible.

Place the flax seeds and 9 tablespoons of water in a bowl and let sit for about 5 minutes, until an egg-like consistency is formed.

In a big bowl add drained cauliflower rice, flax-seed eggs, rice flour, chickpea flour, salt, spices and herbs.

Mix all ingredients with your hands. Knead the dough on a floured counter or board. If mixture is too wet add more flour. If too dry add some water.

Using a rolling pin or your hands, roll the dough into whatever size crust you prefer. I made 4 six inch pizza crusts.

Place the crust onto a parchment lined baking sheet and brush with olive oil.

Bake for about 15 minutes or until golden brown.

Add toppings of your choice and bake for another 15 minutes or so. Enjoy!